Ian McDiarmid Rumored to be Appearing in Star Wars Rebels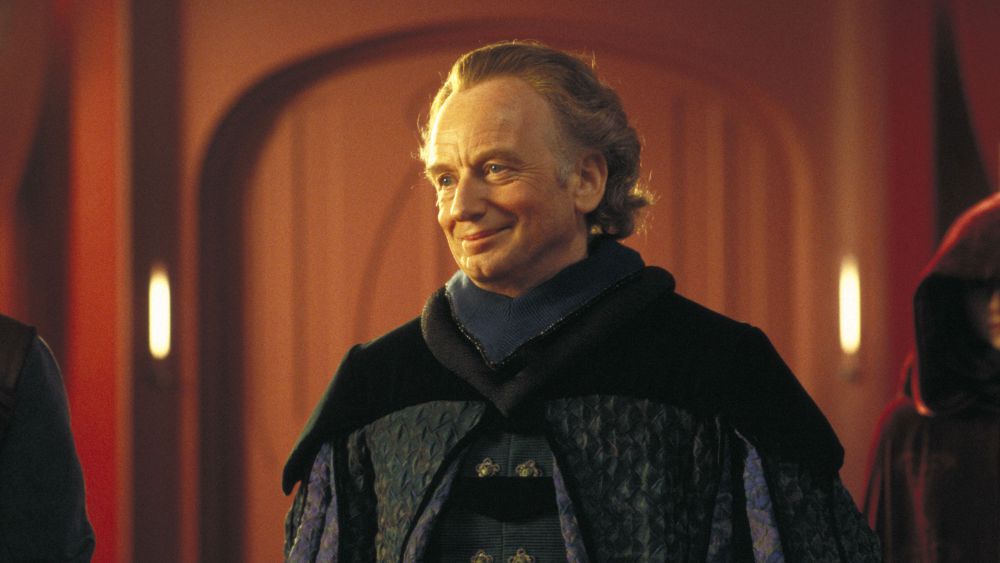 Star Wars Rebels has managed to bring back some of the saga's most beloved actors to reprise their roles in animation form. Forrest Whitaker has returned to voice Saw Gerrera, Billy Dee Williams reprised his role as Lando Calrissian and, of course James Earl Jones returned to voice the Dark Lord of the Sith himself, Darth Vader. Well, if recent rumors are to be believed then another beloved actor is set to return to a galaxy far far away.
Star Wars News Net has reported that Ian McDiarmid is set to reprise his role as Emperor Palpatine in Season 4 of Rebels. Palpatine has been featured in Rebels before, but he was voiced by Darth Maul voice actor Sam Witwer.
Ian McDiarmid has supposedly been doing some voice work at the same place and time that another Star Wars veteran, Warwick Davis, has been recording. Davis is set to play Rukh in the upcoming season 4, so with that in mind it seems extremely plausible that Ian McDiarmid could be voicing the Emperor.
It would make sense for Palpatine to return in the final season of Star Wars Rebels due to it obviously being set during the height of Imperial rule. Perhaps he personally takes an interest in attempting to put a stop to the Ghost crew himself as they have become a rather large thorn in the side of the Empire.
If these rumors are true then Season 4 of Rebels could be the best yet.
About Star Wars Rebels:
A brave and clever ragtag starship crew stands up against the evil Empire as it tightens its grip on the galaxy and hunts down the last of the Jedi Knights.
Source :
Seth Green to Voice New Character in Star Wars Rebels
No stranger to the Star Wars universe, Seth Green will be voicing a Trandoshan character (Captain Seevo), in the next episode of Star Wars Rebels! The official synopsis of the episode is as follows – "Desperate to contact Rebel command, the Ghost crew pirates a mining vehicle with long range communications gear, but the Empire arrives to spoil their plans." It seems our Rebels crew hasn't made it off Lothal after the events of Monday's episodes.
When you're in trouble and need to contact Rebel command, you might have to resort to desperate measures. That's what Kanan, Sabine, Ezra, and Zeb have to do in next Monday's Star Wars Rebels. They pirate/borrow—if you want to use a friendlier term—a mining guild crawler with long range communications gear in order to get in touch with Hera, presumably so she can save their skins. Nerdist is happy to announce that Seth Green will be making his Star Wars Rebels debut as the Trandoshan in charge of that crawler, Captain Seevo.
This is not Green's first foray into the galaxy far far away. He has previously voiced Pantoran Ion Papanoida and Todo 360 in Star Wars: The Clone Wars, as well as a various characters in the canceled before released television series Star Wars Detours.
Check out a couple of images from the episode below…
About Star Wars Rebels:
In this final season, the Ghost crew joins the growing Rebel Alliance, struggling to unite against the Galactic Empire. However, when a new Imperial threat arises on Lothal, Ezra leads the crew back to his home world to defeat the oppressive forces of the Empire under the command of cunning Grand Admiral Thrawn. Old friends are reunited and new alliances are forged as the series builds to its epic conclusion.
"Star Wars Rebels" is created by Emmy Award-winning executive producer Dave Filoni ("Star Wars: The Clone Wars"), Academy Award® nominee Simon Kinberg ("X-Men: Days of Future Past") and Emmy nominee Carrie Beck. The Lucasfilm Animation production is executive produced by Filoni and Kinberg, and co-executive produced by Emmy nominee Henry Gilroy.
The returning voice cast includes Freddie Prinze Jr. as Kanan, Vanessa Marshall as Hera, Steve Blum as Zeb, Tiya Sircar as Sabine, Taylor Gray as Ezra, Dee Bradley Baker as Captain Rex, David Oyelowo as Kallus, Forest Whitaker as Saw Gerrera and Lars Mikkelsen as Grand Admiral Thrawn. Warwick Davis joins the cast this season as Rukh, Admiral Thrawn's deadly assassin.
Source :
Promo Poster for Star Wars Rebels Season 4 Released!
We are just a few short weeks away from the beginning of the end for our Rebels crew. Star Wars Rebels season 4 begins October 16, and the fine folks at StarWars.com have given us our first look at a teaser poster for the season.
From the look of the poster it seems that Thrawn and Governor Pryce will be the main protagonists of this season, but there is also a weird wolf looking thing in between them. What kind of menace could he pose for our Rebels? I guess we will find out soon!
It's almost here. Star Wars Rebels returns for its fourth and final season on October 16 on Disney XD, and we can't wait. Lucasfilm and Disney released today the official key art for the season — a stunning image featuring the Ghost crew, Thrawn, and more.
About Star Wars Rebels:
With the Rebellion now fully organized and supplied with starships and soldiers, the Empire calls upon one of their top naval officers—only known to the public as Fall—to suppress the freedom fighters once and for all.
Meanwhile Ezra—a Jedi Padawan—faces a challenge that would determine his allegiance to either the Light.. or the Dark, and the bonds he holds with the Ghost crew are tested through a series of obstacles of both light and dark side origins.
Source :
Viewing Schedule for Star Wars Rebels Season 4 Released!
Thanks to the fine folks at StarWars.com, we now know when we will be able to check out the first half of Star Wars Rebels Season 4! For the most part it looks as if we will be getting two episodes every week of release starting October 16, through November 13, then there will be a holiday break to before we get to see the final 3 episodes or so.
Check out the information below!
You can mark your calendars for the following episodes:
Monday, 10/16 – "Heroes of Mandalore"  Parts 1 & 2

Monday, 10/23 – "In the Name of the Rebellion" Parts 1 & 2

Monday, 10/30 – "The Occupation" and "Flight of the Defender"

Monday, 11/6 – "Kindred" and "Crawler Commandeers"

Monday, 11/13 – "Rebel Assault"
Following a holiday break, Star Wars Rebels will be back in early 2018 for its final run of episodes leading up to the top-secret series finale.
Look for new episodes every Monday with five airings throughout the day at 12:30 a.m. ET/PT, 3:00 a.m. ET/PT, 7:30 a.m. ET/PT, 5:30 p.m. ET/PT, and 9:00 p.m. ET/PT on Disney XD, the Disney XD App, and VOD. StarWars.com's Rebels Recon behind-the-scenes series will be posted after the 9:00 p.m. ET/PT broadcast, and episode guides will be published on Tuesdays at 9:00 a.m. ET / 6:00 a.m. PT.
About Star Wars Rebels:
Having established a secret base on Atollon, the Ghost crew, now led by a more powerful Ezra, strengthens the rebel fleet by acquiring new resources and recruits eager to stand against the Empire. However, the Imperial efforts to eliminate the rebellion are now being led by the coldly analytical Grand Admiral Thrawn, whose strategic, tactical and cultural insights make him a threat unlike any they have faced before. In season three, Ezra and Sabine take on new roles and challenges as the rebels prepare for their biggest mission yet – a direct assault on the Empire.
Source :