New Star Wars Experiences Coming to Disney Parks!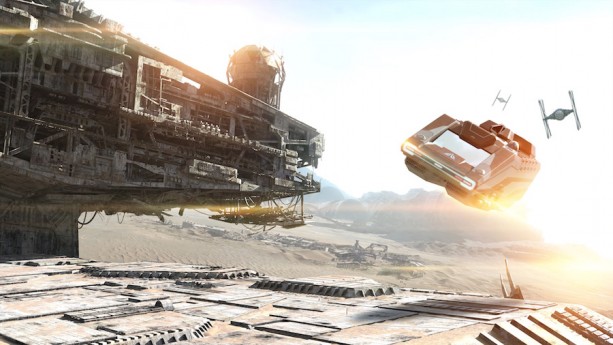 Star Wars Launch Bay will take guests into the Star Wars saga and the upcoming film, Star Wars: The Force Awakens, with special exhibits and peeks behind-the-scenes, special merchandise and opportunities to encounter Chewbacca and Darth Vader.
Star Tours – The Adventures Continue will be home to a brand new adventure inspired by the upcoming film, Star Wars: The Force Awakens. During the opening months, we'll make sure that everyone who rides Star Tours will experience the new adventure. After that, it will be up to the will of the Force. Here's a sneak peek of where the Starspeeder 1000 will be taking us.
Star Wars: Path of the Jedi will feature scenes from the complete Star Wars saga, also giving anyone new to the Star Wars galaxy an opportunity to get acquainted with the films.
Last, but certainly not least, is Jedi Training: Trials of the Temple, which will open in early December. This reimagined Jedi Training experience will take younglings to the secret site of an ancient Jedi temple where they will face Darth Vader along with the Seventh Sister – a new villain from the Disney XD series "Star Wars Rebels."
And work begins next year on the 14-acre Star Wars-themed land at Disney's Hollywood Studios. With construction underway, unfortunately, we won't be able to offer Star Wars Weekends. While Star Wars Weekends has been a great way to enjoy the saga for a few days every year, now the Force will be with Disney's Hollywood Studios every day.
With Star Wars Launch Bay, the new Jedi Training experience, "Star Wars: Path of the Jedi" and a new destination in the Star Tours attraction opening in December, you'll be able to step into the Star Wars saga every time you visit Disney's Hollywood Studios.
Source: Disney Parks Blog
Comments
comments
Star Wars Galaxy's Edge Hollywood Studios Construction Milestone
A few weeks ago the Disney Park's blog was updated with an article showcasing a milestone in the construction of Star Wars Galaxy's Edge at Disney's Hollywood Studios. The milestone was a construction beam signing by Imagineers and cast members at the park. This is an important milestone in the construction phase of any Disney attraction.
To celebrate this milestone, a video was created showcasing the signers. The signed beam will eventually be part of the construction and a remembrance for those that participated in it.
Thousands of Disney cast members excited to see Star Wars: Galaxy's Edge coming to life at Disney's Hollywood Studios celebrated a major construction milestone with the signing of a support beam that'll top out the new land.
About Walt Disney World:
At Walt Disney World, you've got a whole fantastic world to celebrate in! With four spectacular theme parks and two water parks plus the most amazing shopping, dining and recreation magic imaginable, it's no wonder all of life's special moments are made even more enjoyable when you celebrate at Walt Disney World.
Comments
comments
New Promo Images of Star Tours Crait Starspeeder Flight
The Disney Parks Blog has just given us our first taste of the new Crait planet destination, on Disney's Star Tours ride. The new destination will be available November 17. We get a look at the cockpit view from Star Tours, as well as some promotional artwork for the planet featuring the Star Tours Starspeeder as well.
The site goes on to mention that Crait is not the only reveal that will be had this week.  We've shared all we can for now about the thrilling adventures waiting for you on Crait, but if you're thinking that's the only new Star Tours destination coming this week, all I can say is, "No. There is another."
What other planet would you want to see added to the destinations for Star Tours? As always, leave your thoughts in the normal places.
About Star Tours:
Star Tours – The Adventures Continue is a 3D motion simulator attraction located at Disney's Hollywood Studios, Disneyland, Tokyo Disneyland, and Disneyland Paris.
Source :
Comments
comments
New LEGO Star Wars Display Coming to LEGOLAND Florida in 2018
LEGOLAND® Florida Resort is announcing an exciting new addition coming to its LEGO® Star Wars™ MINILAND area in 2018 – an all-new LEGO display inspired by the worldwide blockbuster "Star Wars – Episode VII: The Force Awakens."
LEGO® Star Wars™: The Force Awakens MINILAND Model Display will feature several scenes re-created with thousands of LEGO bricks, including memorable movie moments with Rey, Finn, Poe, Kylo Ren and BB-8, enhanced with lights, sound effects and animation.
More details about this 2018 expansion project will be shared in the coming months. For more information about LEGOLAND Florida Resort, visit www.LEGOLAND.com/florida and www.llfblog.com.
About LEGOLAND Florida:
LEGOLAND® Florida Resort is built for kids. The 150-acre interactive theme park offers more than 50 rides, shows and attractions, restaurants, shopping, a breathtaking botanical garden and the LEGOLAND Water Park all geared to families with children ages 2 to 12. The LEGOLAND Hotel is located just steps from the park entrance and features 152 rooms.
Located in Winter Haven – just 45 minutes from Orlando and Tampa.
Comments
comments