Star Wars Shows Up in New 'Ralph Breaks the Internet' Trailer
Normally we don't post about movies other than Star Wars on the site, but this news sort of is about Star Wars. Disney's upcoming sequel to Wreck it Ralph, features a few Star Wars characters and ships in it.
It seems Ralph and Vanellope enter the Internet and find themselves at Disney's website. Of course upon arriving a TIE-Fighter is seen chasing an X-Wing fighter. We also see Vanellope being chased by three First Order Stormtroopers as well!
Check out the new trailer above!
About Ralph Breaks the Internet:
"Ralph Breaks the Internet: Wreck-It Ralph 2" leaves Litwak's video arcade behind, venturing into the uncharted, expansive and thrilling world of the internet—which may or may not survive Ralph's wrecking. Video game bad guy Ralph (voice of John C. Reilly) and fellow misfit Vanellope von Schweetz (voice of Sarah Silverman) must risk it all by traveling to the world wide web in search of a replacement part to save Vanellope's video game, Sugar Rush. In way over their heads, Ralph and Vanellope rely on the citizens of the internet—the netizens—to help navigate their way, including a webite entrepreneur named Yesss (voice of Taraji P. Henson), who is the head algorithm and the heart and soul of trend-making site "BuzzzTube." Directed by Rich Moore ("Zootopia," "Wreck-It Ralph") and Phil Johnston (co-writer "Wreck-It Ralph," "Cedar Rapids," co-writer "Zootopia,"), and produced by Clark Spencer ("Zootopia," "Wreck-It Ralph," "Bolt"), "Ralph Breaks the Internet: Wreck-Ralph 2" hits theaters on Nov. 21, 2018.
Nissan Unveils Millennium Falcon-Themed 2018 Rogue Vehicle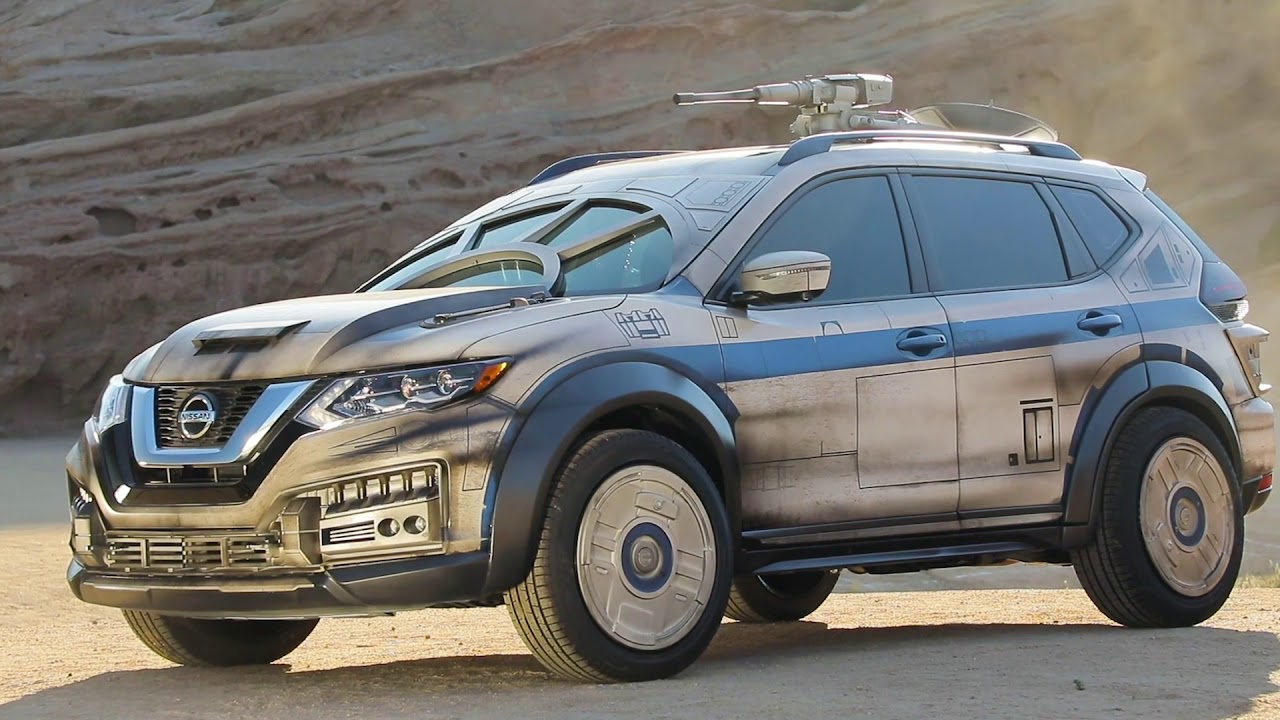 HOLLYWOOD, Calif. — Nissan's latest Star Wars-themed custom show vehicle lands on the Hollywood red carpet at the world premiere of "Solo: A Star Wars Story' this evening. Based upon the brand's best-selling 2018 Nissan Rogue, the custom show vehicle takes inspiration from the iconic Millennium Falcon featuring unmistakable elements from the most-capable ship in the galaxy.
"As the third installment of our own trilogy of collaborations with Lucasfilm, we raised the bar delivering our best custom show vehicle yet," said Jeremy Tucker, Nissan's vice president of marketing communications and media. "We started with the best-selling Nissan Rogue and worked with the talented concept designers at Lucasfilm and ILM. Then we turned to the experts at Vehicle Effects bring it to life. The result is hands-down the most complete and thrilling vehicle we've ever done."
Merging the likeness of the Millennium Falcon with the Nissan Rogue was a natural fit. ProPILOT Assist, a Nissan Intelligent Mobility technology, helps drivers maintain speeds and guide the Rogue "Straight Down the Center." Similarly, the Millennium Falcon always seems to find its way out of trouble ahead by navigating obstacles with apparent ease.
The Millennium Falcon-inspired Rogue is the most extensive Star Wars-themed Nissan custom show vehicle build to date, practically appearing as though it flew right off the screen. In addition to a fully customized movie-inspired exterior, for the first time, this Star Wars-inspired Nissan receives a full interior makeover channeling the iconic cockpit of the Millennium Falcon.
Kids of all ages are going to enjoy the level of detail and craftsmanship that went into the interior of the build. Just as any Star Wars fan would expect, the interior features buttons, lights and sound effects closely reflecting the sights and sounds of the Millennium Falcon's cockpit. It also features front- and second-row chairs like those seen inside the Millennium Falcon. Additionally, center-mounted "hyperdrive" controls bring the package to life.
The exterior is where the workmanship of the build shines. Custom handcrafted aluminum body panels feature details mimicking the Millennium Falcon, while 3D-printed inserts bring another level of immersive depth to the project. A roof-mounted radar dish and laser cannon appear as though they were lifted right from the movie set. Up front, the multi-pane windshield clearly resembles that of the on-screen hero.
But the rear of the craft is where all the magic happens. The subspace-hyperdrive unit spanning the entire width of the Rogue appropriately glows blue, while a trio of high-mounted Bose speakers and an 18-in. Bose subwoofer provide the aural experience. Inside and out, the Bose system delivers an impressive 1,500 watts.
Custom fabrication for the Millennium Falcon themed Rogue was completed at Vehicle Effects in Burbank, Calif. Vehicle Effects has a storied history in crafting custom vehicles for on-screen use and is responsible for all previous Nissan Star Wars-themed show vehicles.
"Solo: A Star Wars Story" is in theaters nationwide on Friday, May 25.
Mark Hamill Gives His Thoughts on a Star Wars Viewing Order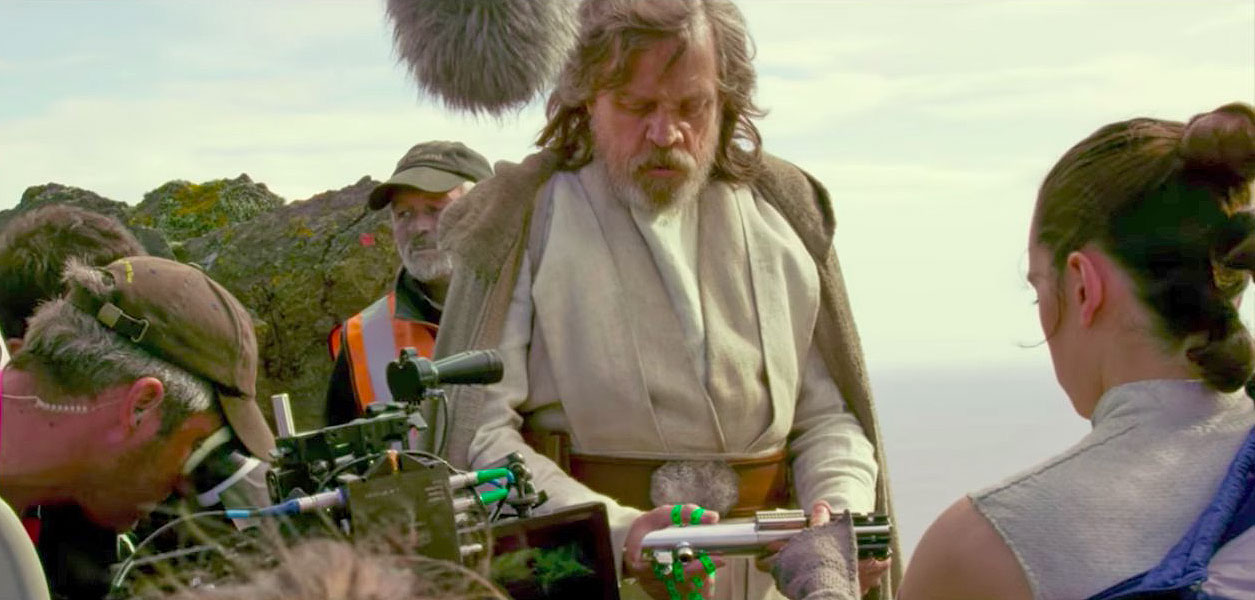 In a new interview with the website Collider, Mark Hamill gave his thoughts on the best way to watch all of the Star Wars films. Well at least he tried to give us his view, although he was rather non-committal.
While he admitted his preference would be "the way they were chronologically released," Hamill added that he understood the need for a "proper" order.

"Now, I may be wrong, because if you're starting out fresh, you probably go: one, two, three, four, five, six… uh, Rogue One? It's hard, I mean… wait a second.

"Rogue One comes before four! Yeah so you go: one, two, three, Rogue One, four, five, six, seven, eight," he decided, before admitting: "I'm guessing."

He added it would be hard for younger viewers "because the technology is so advanced now".

"Star Wars looks primitive compared to the prequels where CGI flourished," he said.
What are your thoughts on the correct order to watch the films? Do you start 1-7, or do watch in the order released? Leave your thoughts in the appropriate places.
Source :
Your Guide to Star Wars Valentine's Day Gifts for that Special Someone in Your Life!
Valentine's Day is fast approaching, and with the help of Amazon (hopefully you are a member of Amazon Prime), we are going to steer you in the right direction for a massive thank you from your significant other! Don't be caught without a fantastic Star Wars gift to say "I love you" next week! Join us on this deep dive of love connection!
Star Wars Princess Leia and Han Solo Valentines Day Gift Coffee Mug Set – I Love You I Know – Star Wars Pinache – 20 oz
A perfect for Valentines Day gift for that special Star Wars fan in your life! Star Wars pop culture meets elegant sophistication with these Pinache Princess Leia and Han Solo coffee latte mugs! These lovely mugs feature Leia and Han silhouettes surrounded by falling gold hearts and gold handles. When you introduce this mug to your friend, they will melt at your feet (or at least they should)!
---
Star Wars Womens' Star Wars T-Shirt Princess Leia
How about this awesome Star Wars Princess Leia shirt? The "Don't Mess with the Princess" slogan and image of Leia, perfectly captures the heart of our favorite Princess in the entire galaxy!
---
Star Wars Ep 8 Porg 16″ Plush Pillow Buddy
Don't sleep alone at night! If you can't be there to comfort your loved one, let them sleep with this nice 16″ porg! This adorable porg will melt the heart of anyone that comes near it!
---
Star Wars R2-D2 & C-3PO Best Friends Necklace Set
This officially licensed pendant measures 3/4″ x 1 1/4″, and will show your loved one, that you not only love them, but also Star Wars. You will be the C-3PO to their R2-D2. The pendants fit perfectly together to complete the heart.
---
Star Wars BB-8 Bluetooth Speaker Disney IHome
Get ready to play music from your smart phone with this iHome bluetooth Star Wars BB-8 speaker. Now you can set this up in any room, play some romantic music on your phone, and let BB-8 stream that through his built in speaker, to setup a romantic date at the house!
---
Loungefly Star Wars R2D2 Blue/White/Silver Patent Dome Bag
This Star Wars Bag from Loungefly just might be the raddest bags ever created. Made of faux leather, this handbag will make your wife/girlfriend the envy of all of their friends. The bag features top zip closure, interior zipper and pouch pockets, and is fully lined inside.
---
Now that you have a list of cool items to shop for, go out and make a special Valentine's Day with your loved one! Enjoy!
Note: If you purchase one of the awesome products featured above, we earn a small commission from the retailer. Thank you for your support.