The Last Jedi Still Raking in Cash at the Box Office!
Star Wars: The Last Jedi finished its second weekend with a domestic tally of $100 million dollars! Taking into account that the film most likely suffered from Sunday being Christmas eve, and the numbers are even more eye-popping!
The film has now grossed $800 million globally, and it hasn't even opened in China. China's opening will be January 5th.
According to a recent report from The Hollywood Reporter, the film is expected to end its theatrical run somewhere in the neighborhood of $1.6 billion! That will fall about $400 million short of Star Wars: The Force Awakens $2 billion run. It would still be in the top 5 highest grossing of all time, edging out Marvel's The Avengers.
"The Force Awakens was an outlier, the likes of which we may never see again, and to compare any movie, even a Star Wars film, to that performance is unfair given the buildup to that film's monumental release. At a gross of nearly $750 million worldwide and a near even split between the North American and international gross after a little over a week in theaters, The Last Jedi is by any measure a great success, and the passionate debate over pros and cons of the film itself serve only to show the continued passion that fans have for this historic film series," says comScore analyst Paul Dergaragedian.
This news looks good for the finances of Lucasfilm. lt's probably time to start planning that Solo: A Star Wars Story pr campaign now…
Source :
Comments
comments
Original Dr. Evazan, Alfie Curtis Passes Away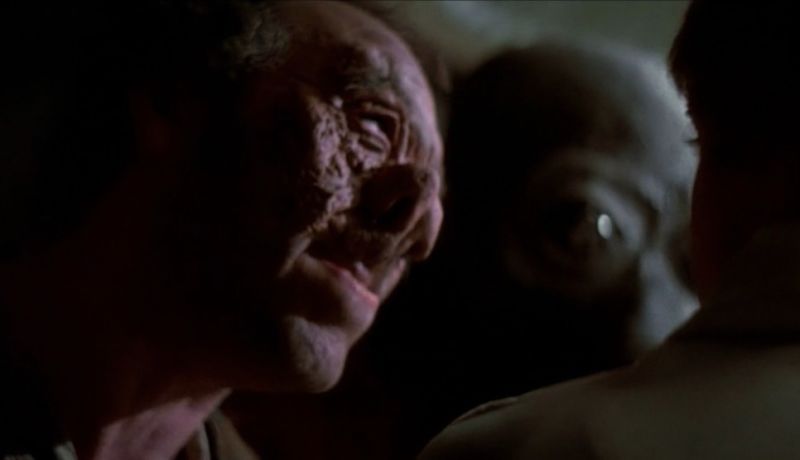 According to Jedi News, Alfie Curtis, who played Cornelius Evazan (Dr. Evazan) in Star Wars: A New Hope, has died. The character was most famous for threatening Luke Skywalker in the Mos Eisley Cantina saying, "I have the death sentence on 12 systems!"
In Star Wars lore, Doctor Cornelius Evazan was from the planet Alsakan.  He was an up-and-coming cosmetic surgeon until he became gripped by madness and began practicing "creative surgery" on his patients, leaving his victims horrifically disfigured. He was soon the focus of a bounty hunter, but was rescued by Ponda Boba. The two formed a quick friendship and started dealing spice, which garnered their "wanted men" status.
The duo soon ran into the wrong farm boy and Jedi Knight in Chalmun's Cantina.
Curtis, born in 1930, had a long career that also included roles in David Lynch's The Elephant Man, The Wildcats of St. Trinian's, and on numerous British TV shows. The Outer Rim News team's thoughts go out to his family and friends at this time.
Comments
comments
First 'The Last Jedi' TV Spot Appears Online
Get ready for the marketing event of the year! Now that we have an official trailer, and we are a little over a month away from the premiere, get ready to be spoiled, or not, it's your choice. We now have the first Star Wars: The Last Jedi TV spot to dissect.
Warning Possible SPOILER material below, or if you watch the teaser above so be warned! Continue at your own peril!
–
–
–
–
–
The new teaser gives us a look at Luke on the Millennium Falcon, and a few other various new shots from the film. As always, you can discuss on our various social media sites. Enjoy!
About Star Wars: The Last Jedi:
Star Wars: The Last Jedi hits North American theaters on December 15, 2017. Directed by Rian Johnson and starring Mark Hamill, Carrie Fisher, John Boyega, Daisy Ridley, Oscar Isaac, Benicio del Toro, Laura Dern, Jimmy Vee, and more! Music will be composed by John Williams.
Comments
comments
Official Hascon Star Wars Product Images
Hasbro marketing has sent over official images of some of the Star Wars items on display at Hascon.  The Hascon Star Wars product images include:
Darth Vader Role Play Helmet
3.75 Vintage Collection
First Order Stormtrooper
Jyn Erso
Kylo Ren
Rebel Soldier
Rey (Jakku)
3.75 The Last Jedi:
DJ
General Leia
Luke Skywalker (Jedi Exile)
Rey (Island Journey)
Rose (First Order Disguise), BB-8, BB-9E
Obi Wan Kenobi
R2-D2
Yoda
6 Inch Black Series:
Captain Poe Dameron
Elite Praetorian Guard
Finn – First Order Disguise
Rose
Supreme Leader Snoke
Comments
comments