Star Wars: Force Arena Gets May the Fourth Update!
SEOUL, Korea – May 4, 2017 – Netmarble Games Corp., the fastest-growing mobile game company in Asia, today announced that Star Wars™: Force Arena is introducing its "May the Fourth," update celebrating the 40th anniversary of the Star Wars franchise.
With the update, two new character cards including 40th Anniversary Luke Skywalker and Darth Vader were added into the game. Both 40th Anniversary characters are unique cards and includes a mission which will reward players with top tier legendary card packs.
Today's update comes with various events and giveaways as 25% percent will be added to crystal purchases within the store. Various check-in events are available including a 'first time log in event' that gives away the 40th Anniversary Luke Skywalker and Darth Vader character cards, and a seven day long check-in event that gives away diamonds, credits and card packs. A "hot time event" which doubles the gold while playing during a designated time period will be available two times a day. A 40th Anniversary event will give out a legendary Luke Skywalker or Darth Vader when completing the given mission within the given time frame.
"To celebrate the 40th anniversary of the Star Wars franchise, we introduced two very special card packs and a new system called wild cards," said Seungwon Lee, Chief Global Officer of Netmarble Games. "Players can now join the game and take advantage of the various events and leverage the wild card feature to swap cards out for the one they really want in Star Wars™: Force Arena."
Star Wars™: Force Arena boasts more than 80 playable in-game cards, including new faces from the recent movie release, Rogue One™: A Star Wars™ Story. Star Wars™: Force Arena is available on the iTunes App Store and Google Play. For more information on the game, visit the official website at www.StarWarsForceArena.com.
Download Star Wars: Force Arena for your iOS device here: http://apple.co/2ilzL4U
Check out Star Wars: Force Arena on Android here: http://bit.ly/2f13v8H
Star Wars: Rivals Mobile Game Announced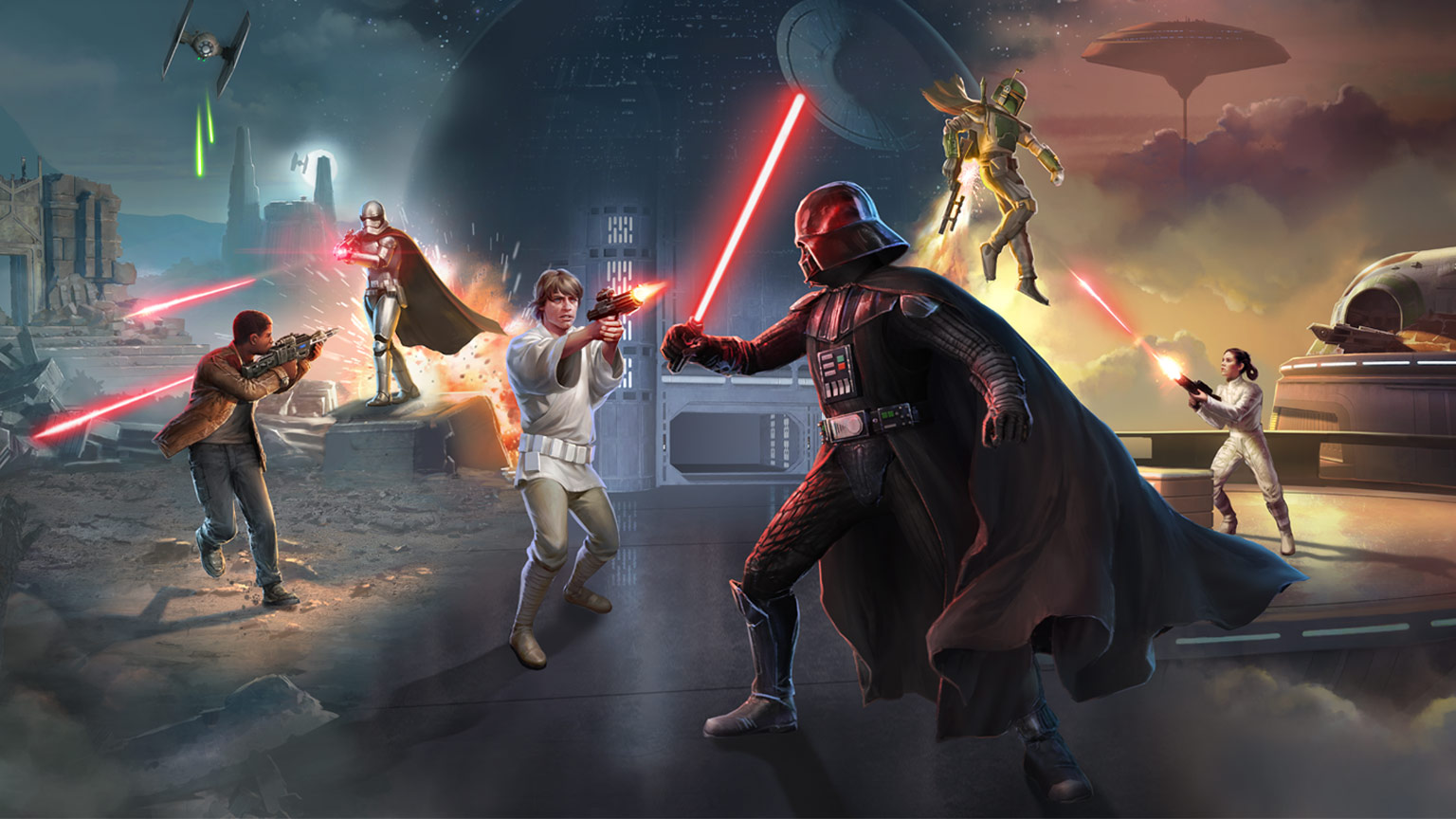 A brand new Star Wars themed mobile game has just been announced. Say hello to Star Wars: Rivals. There was no word concerning the exact date that the game would be released. You can pre-register for the game on Google Play, but not the Apple Store yet. Check out more about the game below…
Luke Skywalker versus Darth Vader. Jyn Erso versus Director Krennic. Finn versus Captain Phasma. Salacious Crumb versus R2-D2. Finally, there's a game celebrating the iconic rivalries of a galaxy far, far away. (Well, except that last one.)

Today, Lucasfilm and Disney officially announced Star Wars: Rivals — the first real-time Star Wars competitive action shooter for mobile devices. Highlighting legendary clashes, the character roster is an all-star lineup spanning multiple eras of Star Wars, allowing players to experience the saga's most famous conflicts. The gameplay is rooted in cover-based PvP skirmishes where players build the ultimate team to challenge opponents in combat arenas.

Star Wars: Rivals is available for pre-registration on Google Play now. Players who download from Google Play will get a special bonus: exclusive access to death trooper support units. Available for a limited time at launch, death troopers (Rogue One's black-armor clad elite Imperial forces) fight alongside players in PvP skirmishes using advanced weaponry to lay down cover fire. That's something even Director Krennic would love.
About Star Wars: Rivals:
Confront your rivals in the first real-time Star Wars™ competitive action shooter designed specifically for your mobile device. Master your skills in cover-based PvP skirmishes and climb the ranks of the Arena Leagues, unlocking a cast of legendary Star Wars heroes. Experience iconic rivalries like Luke Skywalker vs. Darth Vader, Jyn vs. Krennic, and Finn vs. Captain Phasma. Build the ultimate combat team, anticipate your opponent's strategy, and leverage your surroundings to gain the upper hand. Take aim, fire, and obliterate the competition.
Source :
New Game Coming, Star Wars: Rise to Power
Lucasfilm and EA announced today Star Wars: Rise to Power, an upcoming mobile strategy game set in the Star Wars universe. While specific details and a release date are yet to be revealed, Android users on Google Play can sign up to play the Closed Pre-Alpha Test. If you qualify, you'll get to play the game and provide feedback. Visit the registration page and sign up.
Star Wars™: Rise to Power is a mobile strategy game set in the Star Wars™ universe. Still in development, we are inviting Android users on Google Play to join a Closed Pre-Alpha Test where they will have the opportunity to play the game, provide valuable feedback, and help shape the next great EA Star Warsmobile game.
In Star Wars: Rise to Power, the war between the Empire and the dawning New Republic continues to rage on – and players influence who will ultimately reign supreme. Every move helps to shape the fate of the galaxy in-game as players choose a faction, establish their base, and begin building a fleet of starships.
Players will form or join an alliance and engage in epic galactic warfare with other players from around the world in the hopes of emerging victorious. Power is earned by outwitting adversaries in carefully orchestrated attacks and by building a mighty coalition through the loyalty of other players. In Star Wars: Rise to Power, players embrace destiny by engaging in diplomacy or deception to ultimately become a leader of the Empire or New Republic.
Learn more about Star Wars: Rise to Power by visiting the official FAQ page here: http://x.ea.com/34050
Source :
Star Wars: Puzzle Droids Available Now!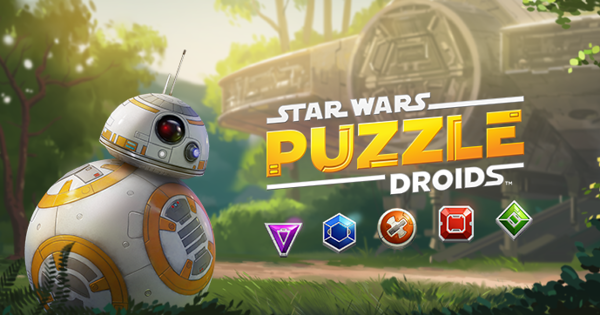 Star Wars: Puzzle Droids™, the first mobile Star Wars™ casual puzzle game, is now available for download on the Apple App Store, Google Play and Amazon Appstore. The brand new match-3 adventure invites players to tap into the holographic memory banks of BB-8 for an epic Star Wars™ adventure. The journey will feature familiar scenes and previously untold moments through compelling gameplay and interactive puzzle boards. Players can journey across Jakku and Takodana, and take on the First Order alongside such familiar faces as Rey, Finn and Poe Dameron.
Featuring more than 100 levels, Star Wars: Puzzle Droids lets players match-3 to create combos, clear obstacles and face-off against enemies, and unleash epic power-ups to clear the board. Missions can be completed to collect memory discs, which may be used to unlock heroic memories to continue the adventures.
Star Wars: Puzzle Droids is available today for free download with in-app purchases.