LEGO Rogue One Mini Movie is Pretty Good!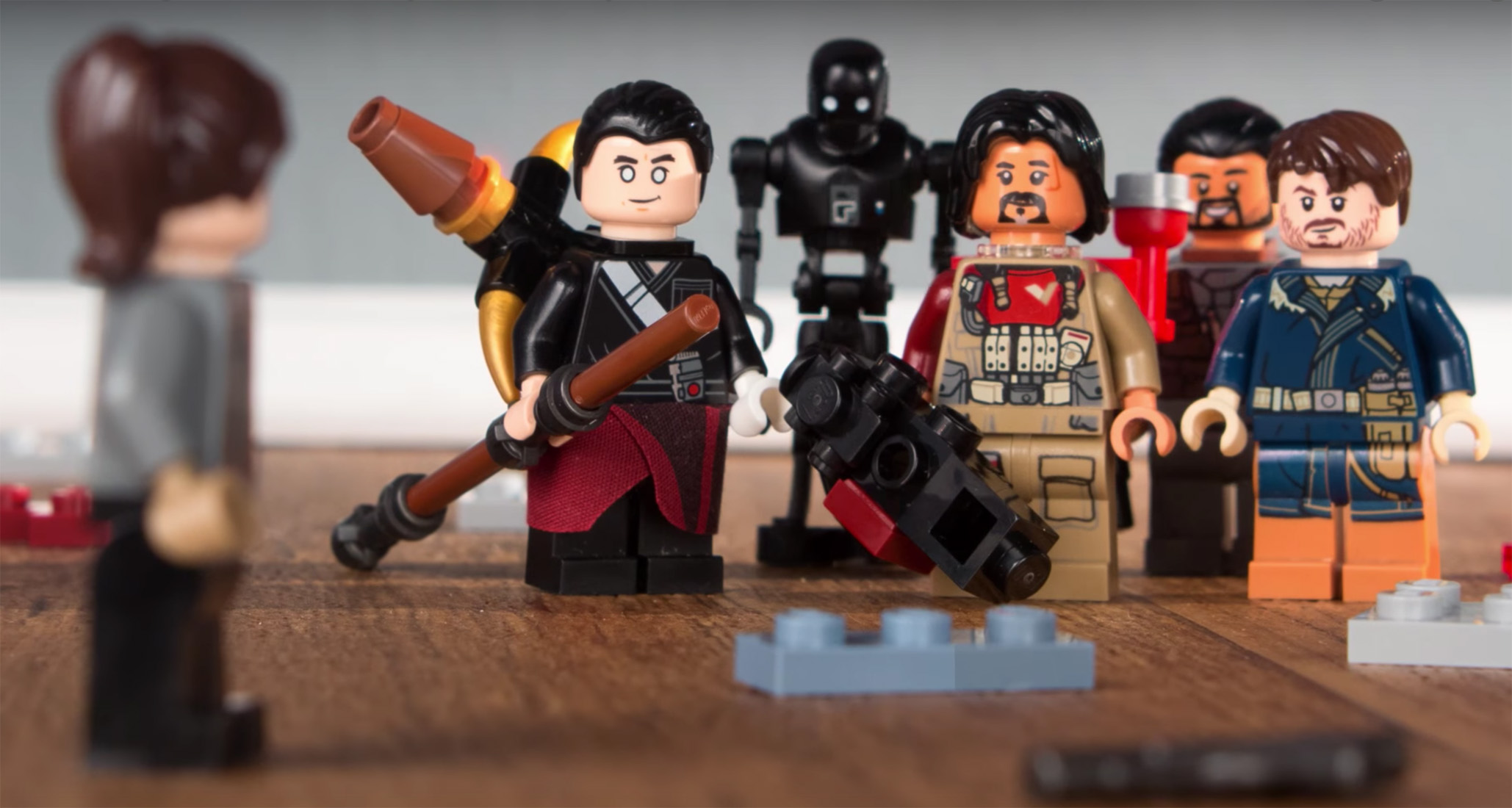 Disney just posted a very nice LEGO Rogue One mini movie on youtube.  It is a very well done video, that makes me harken back to the days of playing Star Wars in my room as a kid.  Enjoy a little Star Wars goodness on this Sunday morning!
Check out the video below and see what you think.  Tell us your thoughts on this video in the comments section below.
See a galaxy far, far away like never before in this hilarious retelling of Rogue One: A Star Wars Story told entirely with LEGO bricks!
[amazon_link asins='B01CVGV93C,B01CVGV9RS,B01CVGVB6W,B01N3LZ5HG,B01CVGV914,B01CVGVB4O,B01CVGVEBO,B01N076FO4′ template='ProductCarousel' store='orn06-20′ marketplace='US' link_id="]
UPDATED – New 8-Bit Star Wars The Last Jedi Trailer Hits the Web!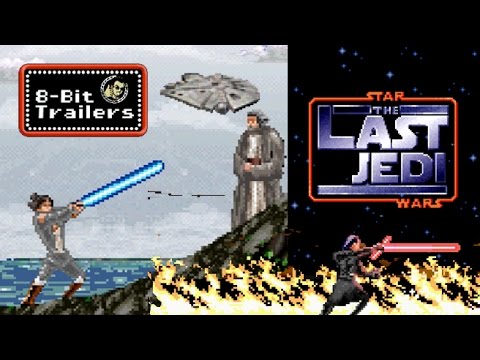 These days a trailer, just isn't a trailer without the great 8-bit treatment.  Today the fine folks at JoBlo Videos have released an 8-Bit Star Wars The Last Jedi Trailer!  The video is simply fantastic, reminding fans of what it was like to play video games back in the late 80's and early 90's. You just have to watch it to appreciate the greatness that is within.
So check out the new 8-Bit version of the Star Wars: The Last Jedi trailer below!
Welcome to 8-Bit Trailers, where we take a kickass existing trailer and take it back in time to recreate it in glorious retro 8-Bit fashion. It's as if your NES never went out of style! This time out, we head to a galaxy far, far away with the trailer for STAR WARS: THE LAST JEDI from director Rian Johnson and starring Daisy Ridley, Mark Hamill, Adam Driver, Carrie Fisher, Oscar Isaac, John Boyega and Benicio Del Toro!
UPDATE:

Now Star Wars The Last Jedi director Rian Johnson has just given his official thumbs up for this video!
Here's something pleasant! Makes me want to replay Monkey Island. https://t.co/VX5WhvxtOh

— Rian Johnson (@rianjohnson) May 10, 2017
About Star Wars: The Last Jedi:
Star Wars: The Last Jedi hits North American theaters on December 15, 2017. Directed by Rian Johnson and starring Mark Hamill, Carrie Fisher, John Boyega, Daisy Ridley, Oscar Isaac, Benicio del Toro, Laura Dern, Jimmy Vee, and more! Music will be composed by John Williams.
Kill Some Time with the Hot Wheels 'Star Wars: A New Road' Parody Video
Looking to kill some time at work this morning?  Why don't you give this new Star Wars Hot Wheels parody video a try.  In the video, Star Wars: A New Hope is recreated with Star Wars themed Hot Wheels cars.  Of course there is a little nod to another film in there as well.
So take three minutes with your cup of coffee, and enjoy this little short.
A hilarious Star Wars parody with the classic roles played by Hot Wheels character cars! The rebels must work together to defeat the Galactic Empire and save the galaxy! May the fourth be with you.
Find the Star Wars Hot Wheels character car collection here: http://po.st/HW_StarWarsCars
About Hot Wheels:
For nearly 40 years, Hot Wheels has been passionate about creating the coolest and craziest toy cars and racetracks. From a line of 16 small 1:64-scale die-cast vehicles, today Hot Wheels has evolved into a a global lifestyle brand dedicated to fast action and over-the-top, epic stunts.
[amazon_link asins='B015YXM0JQ,B01BGQOA4I,B00XS04U96,B00MK0Z66G,B01CU4ITP6,B01CVC9WS0,B01B7G3NUY,B016APHZLU,B01CVC9OTM' template='ProductCarousel' store='orn06-20′ marketplace='US' link_id='694a5270-3181-11e7-88a0-a3e8400d91b8′]
Friends and Droids Mashup is the Stuff of Legend!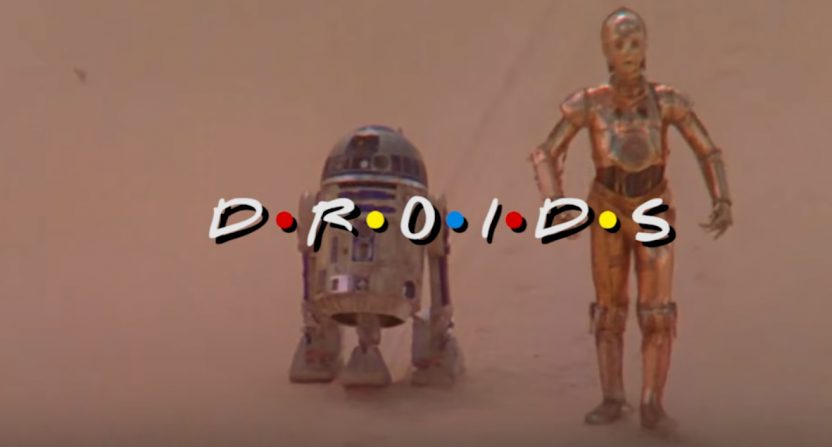 Youtuber Darth Blender, is at it again with some classic pop culture mashup.  This time he has taken our favorite Star Wars droids, and combined them with the intro to the classic television series Friends.  The result is simply awesome!
Check out the video below!
Besides living in a galaxy far, far away, K-2SO, C-3PO, BB8 and R2-D2 couldn't be more alike. They can survive to the vacuum of space, operate in isolated areas, be guided by artificial intelligence and share their experiences on the new sitcom to come: "Droids".

This work uses excerpts from: – Star Wars – Episode I: The Phantom Menace (1999). – Star Wars – Episode II: Attack of the Clones (2002). – Star Wars – Episode III: Revenge of the Sith (2005). – Star Wars – Episode IV: A New Hope (1978). – Star Wars – Episode V: The Empire Strikes Back (1980). – Star Wars – Episode VI: Return of the Jedi (1983). – Star Wars – Episode IV: The Force Awakens (2015). – Rogue One (2016).