Entertainment Earth's Darth Vader Holographic 20-Inch Action Figure Convention Exclusive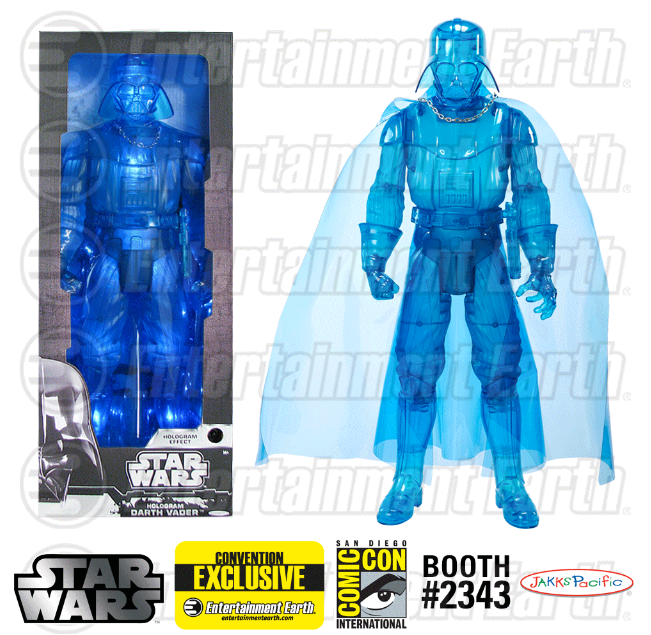 Fresh from the Battle of Hoth, Darth Vader is ready to dominate your collection. Available only at the Entertainment Earth Comic-Con booth #2343, this limited edition Star Wars Darth Vader Holographic 20-Inch Action Figure – Convention Exclusive is a must-have for any Star Wars fan! This clear blue Sith Lord boasts seven points of articulation and a lot of Force power, plus the holographic deco of the figure helps recreate the transmission effect from Star Wars: Episode V – The Empire Strikes Back.
Standing 20-inches tall, this is the first-ever holographic Darth Vader action figure in scale with the actual size of the holograph signal used to communicate with General Veers in the film. Just think – your very own life-size hologram figure!
As you might expect, the Dark Lord of the Sith comes with his classic costume, complete with a silver chain on the cape around his neck.
Darth Vader is packaged in an amazing light-up box featuring an exquisite Battle of Hoth backdrop and silver foil highlights. Push the button on the box and this holographic transmission action figure comes to life!
NOTE: This item will only be sold at San Diego Comic-Con 2015 at the Entertainment Earth booth #2343. It will not be for sale on our website at any time.
Stop by our booth to get this spectacular figure for yourself!
I've been to my share of cons, but I've got nothing on Peter Mayhew. The man who has been Chewbacca for four decades is a regular on the con and Star Wars fan circuit, meeting and communing year after year with the people who love him—and whom he clearly loves as well.
Case in point: When asked by a fan at Dragon Con 2017 "An Hour with a Wookiee and a Bounty Hunter" panel to make the Chewbacca sound (a request that got a collective audience groan), Mayhew replied with a very emphatic "NO."
And then he did it anyway.
This was my first time seeing Mayhew in a panel. From the start, you can't help but be impressed with the man's dedication to Star Wars and its fans—just the act of walking is not an easy task for him these days, but he gets to the chair no matter what.
He was joined by Daniel Logan, the actor who played Boba Fett in Attack of the Clones, and the relationship between these two men was striking. They never shared screen time or even behind-the-scenes screen time, but their work together at cons over many years has forged a deep friendship—even described by Logan as approaching a father-son relationship, to which Mayhew agreed.
After that tender moment, Mayhew gave the crowd a treat by forcing Logan to give him a fist-bump across the panel table, allowing us a glimpse of the size disparity between their two fists—think a robin's egg vs. a grapefruit—and getting a rueful laugh from Logan.
Mayhew got all the typical fan questions—what was your favorite scene? (Answer: the chess game in A New Hope) Who was the biggest prankster? What do you think "makes Chewie Chewie?" He took them all in stride, offering long answers and many anecdotes about the shooting process in London.
Perhaps most interesting was Mayhew's response to a fan's question about what he thought of the newer Star Wars films; Mayhew grumbled a bit and said he "better not respond, "perhaps the biggest surprise of the panel. He also echoed J.J. Abram's own stated regrets about the lack of a Chewie-Leia scene at the end of Star Wars: The Force Awakens, which many felt robbed the bereft Wookiee (or audience) of a much needed mourning scene.
I left the panel quite happy with the experience. I was even inspired to read up about Mayhew a bit more and was delighted to discover that his first film role was as the Minotaur in Sinbad and the Eye of the Tiger, a Ray Harryhausen tour-de-force and one of my childhood favorites.
I hope Mayhew returns for Dragon Con 2018, and considering the thunderous applause that ended the panel, I know I'm not the only one.
Four-Foot Jawas and Six-Foot Raiders: Inclusiveness and Giving in the Star Wars Fan Groups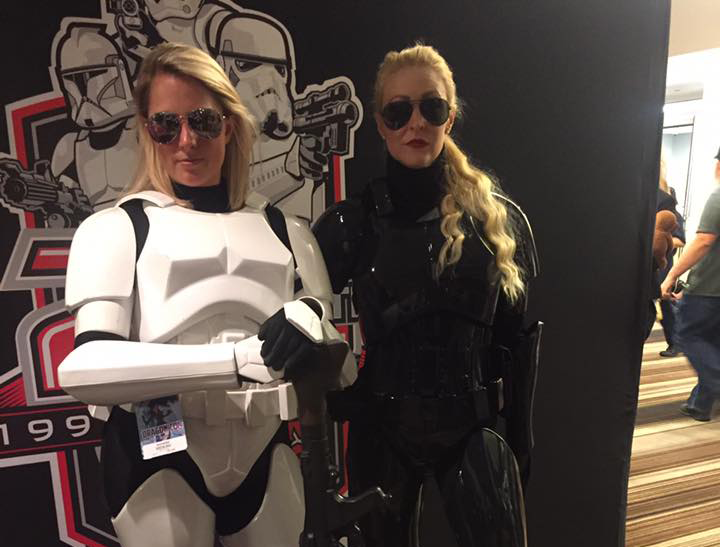 I decided to attend Dragon Con's first panel of 2017—an introduction to the Star Wars fan groups—precisely because I knew so little about what they do.
I'm glad I went, because I knew even less than I thought.
For a Friday morning 10:00 am panel, it was quite well-attended. A few gorgeous sheet-inked art prints of Luke, Han, and Leia hung from the walls to help set the mood. Four of the fan groups had representation on the panel: 501st Legion, Rebel Legion, the Jedi Assembly, and the Mandalorian Mercs. Only some of the panelists wore costumes, but throughout the rest of the con, I saw all of them in full Star Wars character mode, especially in the parade.
The rep for the 501st Legion made the first introductions. It's the 20th anniversary of the group, which she described as "doing good with bad guys." These are the Stormtroopers, the Vaders, the Empire and their allies. As she listed the minimal membership requirements, I got my first taste of just how inclusive these fan groups are. All you need to be in the 501st (or any of the groups) is to be 18 and have a movie-ready costume.
For a lot of us, myself included, "movie-ready costume" sounds quite intimidating. But these groups offer a lot of help to get you there. The 501st rep explained that they don't care how you acquire the goods—buy it, build it, 3D-print it, find it on the side of the road—if it's quality, welcome aboard. But if you do choose to make it yourself, they offer a lot of help in doing so. Every group has a forum that even non-members can join to get advice and ask questions about putting together their costume. The groups also encourage questions if you aren't sure what is canon and what isn't—they have membership officers ready to help. Because the 501st is Empire (or pre-Empire or post-Empire incarnations—you know, the bad guys), most of their costumes are "hard" (armor-related), though there are some soft incarnations, and mixes of both.
The Rebel Legion came next. These are the "good guys doing good." It's their 17th anniversary, and they were equally welcoming of potential members. The reps explained that most of their costumes are soft, but as with all the groups, there are exceptions. A Rebel Legion membership officer (for the state of Georgia) was a panelist, and she welcomed all questions—then and in the future—about how to get your costume together. And as she explained, there's a decent chance that you have a local chapter close to you (true of any of the fan groups) if you don't live in Georgia, and they are all easy to find on each group's website.
The third group, the Jedi Assembly, is specific to light-side Jedi. No Sith or gray Jedi, so those of you that have given in to your hate, look elsewhere. To hear the rep talk about her history with the group is to understand why. She was—like many Jedi Assembly members—inspired by the original story of Luke's journey to becoming a Jedi and "Old Ben's" mastery of the order. As you can guess, the Jedi Assembly is almost exclusively soft-costume work, though the rep acknowledged a bit of leather mixed in here and there. The group is fifteen years old, and though it might be a bit smaller than the other fan groups, it regularly collaborates with them.
The final speaker was the rep (and founder) of the Mandalorian Mercs, the youngest of the groups at ten years but with a solid membership of around 2,000. The costuming for this group is exclusively "hard"—they do armor and only armor. But Mercs diverge a bit from the rules of the other groups by allowing you to design your costume in ways that might not be strictly canon. Although they do have canon characters, as long as you don't stray too far, you can put your own spin on what you build. This is exclusive to the Mercs—the other groups require movie-ready, canon costuming.
The biggest panel surprise for me—and I don't know how I've missed this in the past—is how charity-focused these groups are. Descriptions of their hospital visits and the logistics of being "ambassadors of Star Wars" to children who can't leave their medical facilities took up nearly half the discussion time of the panel, and it was damn impressive. All of the groups participate in this work, and often in tandem with each other and even non-Star Wars groups. If the Disney Princesses are scheduled for a Children's Healthcare of Atlanta Visit and have a sudden conflict, they might call the 501st to step in—and the 501st is happy to do so.
It gave me a whole new perspective on the requirement that members have a movie-ready costume. If your costume is movie-ready, you've got a lot better chance of creating a sense of wonder for a kid who desperately needs it, and that's a wonderful thing.
And CHOA was just one of the intuitions they work with. Make a Wish and many others work with the fan groups. Dragon Con itself does major fundraising for the Georgia Special Olympics, so it was great to see a continuation of the giving theme here.
The Q&A period was instructive on some key issues. Size of person vs. Star Wars character? Doesn't matter. You can be "a four-foot Raider or a six-foot Jawa," as long as the costume is solid. Hair? If it's iconic (Leia), stick to it, but if not, do what you like.
What about children? Absolutely! Several children of panelists were in attendance in their own SW costumes.
When an attendee asked about finding/making a particular Mandalorian-style clasp he was having trouble with, the sheer volume of advice he got from everyone showed just how much love these groups have for their craft.
Though I've never been a costumer or cosplayer myself, I left the panel wondering what group I would choose and which character I would construct if I were. Even if I never manage to find my costuming spirit, I'm glad these groups are out there spreading theirs.
Funko Announces NYCC 2017 Exclusives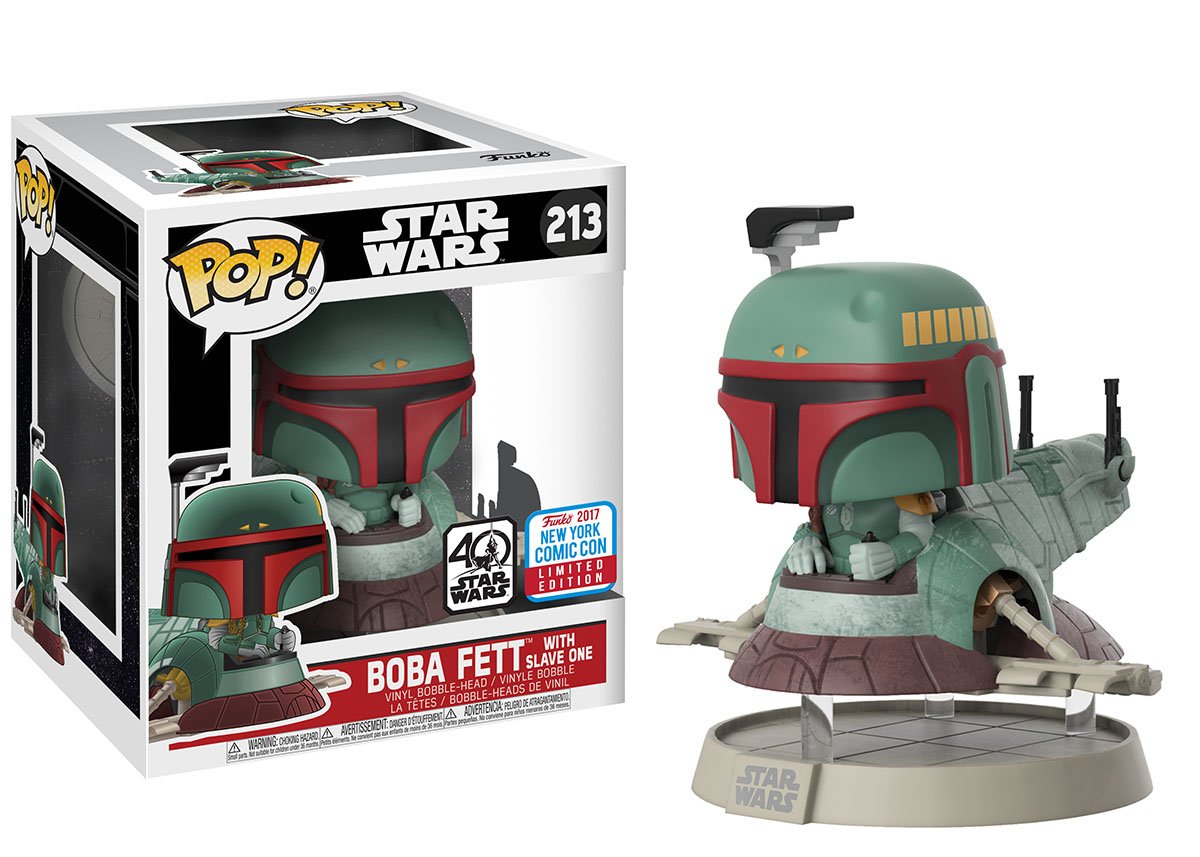 Funko has announced their NYCC 2017 Exclusives! In what will probably be a devastating blow to collector's pockets, the Star Wars exclusives feature a new K-2SO, a young Saw Gerrera, a new Jyn Erso, a chrome Death Star Droid, Dengar, and a POP Deluxe Boba Fett's Slave I!
In past years Funko NYCC Exclusives have gone up in value rather quickly (Qui-Gon Jinn anyone?), and these will probably be just as sought after.
Check out the individual images below…
#ad Complete your Star Wars Funko POP collection by visiting Entertainment Earth and choosing from their selections:
About Funko:
This company really puts the fun in gift buying and giving! Whatever the occasion that drives you, these vinyl figures, bobble heads, and plush will be a big hit with everyone lucky enough to receive one… even if that everyone is you!
Funko provides the planet with terrific bobble heads and vinyl figures from a variety of genre and a number of licensed properties. Funko was founded in 1998 to bring back low-tech toys in the high-tech world of today, and the company's first manufactured bobble head was of the restaurant advertising icon known as "Big Boy." With the success of this initial creation, the extremely popular line of Wacky Wobblers was born. Funko has sold millions of its highly entertaining nodders and vinyl characters worldwide. Check them out for yourself and you'll know why!