Star Wars Toy Sales Fall in 2017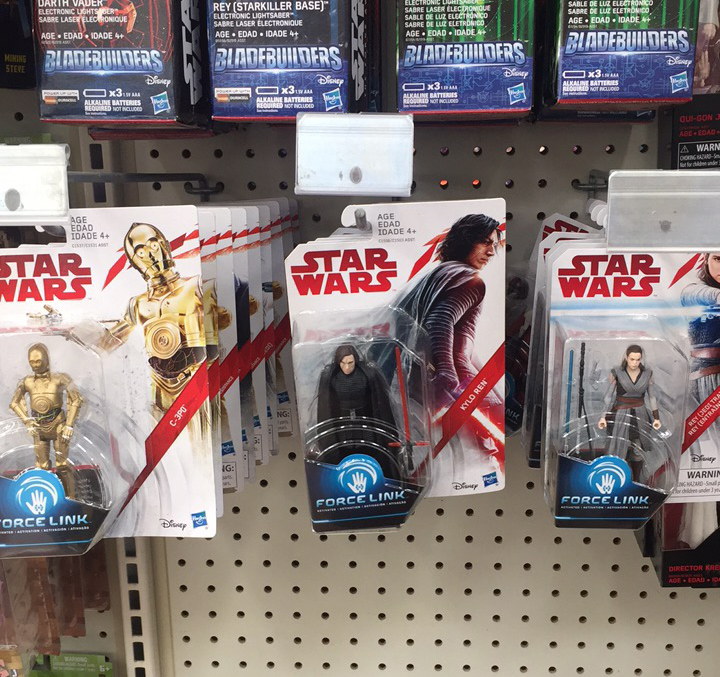 Since Disney released Star Wars The Force Awakens, Star Wars toys have been the biggest kids on the block. They have reigned supreme at Walmarts and Toys R' Us' around the world. Now a new report from the website Bloomberg, is giving us a look at what might be the norm for toy aisles for the next few years.
Toymakers betting big on movie tie-ins are losing out. For the first time in a few years Star Wars was not number one on the top toy list for the year. Even with a new Star Wars film, Star Wars toys finished in second place in 2017. It did however win out the nine week Christmas holiday time frame, but just couldn't win the whole year.
Call it "Star Wars" burnout, or better yet "movie fatigue," said Gerrick Johnson, an analyst for BMO Capital Markets. Hollywood and toymakers have fixated on toy-friendly films at a time when kids are increasingly turning to YouTube, Netflix and social media for entertainment.
The site points out that adult collectors are still buying Star Wars items, but kids are losing interest. Lucasfilm released Star Wars: The Last Jedi this year, but some in the industry think that the film didn't feature enough new characters to justify the sales. "U.S. sales of the brand's toys slowed in late 2017, Drew Crum, an analyst for Stifel Nicolaus & Co., wrote in a note to clients last week. This was despite "Last Jedi" being the top-grossing film released in the U.S. last year at $596 million."
Another issue that has hurt sales was Toys R' Us' plan to file for bankruptcy. Toys R' Us represents about 15% of the market, so this news may caused some consumer heartburn.
Ultimately the answer for increased sales may come down to simple marketing. Toymakers should look to 2017 as a lesson of the importance of marketing. Just because a movie has a toy tie-in, doesn't mean it is as good as sold as it hits the shelf, especially if no one knows about the toys.
"There is a new paradigm," Johnson said. "Just because there is a movie with a toy tie-in doesn't necessarily mean it's going to work. It used to mean it would work."
What are your thoughts? Do you collect Star Wars toys? Do you buy them for your kids? Leave your thoughts in the appropriate places…
Source :
LEGO Kessel Run Millennium Falcon Revealed!
LEGO has officially unveiled one of their upcoming sets for Solo: A Star Wars Story. The new set includes seven mini-figures, two of which are not shown. As you can see, the new LEGO set gives us a look at the new/old vehicle. From this look it appears the main guns have changed, as well as the satellite dish, and front end. These are just a few of the changes that have been to the earlier version of the ship.
Check out all the details, including a few images below!
75212 – Kessel Run Millennium Falcon™
Piece Count: 1,414
Price: $169.99 
Outsmart the villainous overseers and escape the Kessel Mines aboard the amazing Millennium Falcon! Pull amazing maneuvers from the cockpit. Jump in the laser turrets and fire back at pursuing craft. Then check the hyperdrive and get ready to jump to safety! After all that excitement, kick back with Han and his friends with a drink from the bar, while you let Chewbacca win at Dejarik. Then it's off to bed for a well-earned snooze in the bunk aboard the fastest ship in the galaxy! 
Characters
Han Solo™; Chewbacca™; Qi'ra™; Lando Calrissian™; Kessel droid and two additional characters!
New products inspired by new and beloved characters from Solo: A Star Wars Story will start rolling out at retail in April.
About Solo: A Star Wars Story:
The upcoming Han Solo film will be directed by Ron Howard, and will be produced by Kathleen Kennedy, Allison Shearmur, and Simon Emanuel. The film stars Alden Ehrenreich as Han Solo, Donald Glover as Lando Calrissian, Emilia Clarke, Joonas Suotamo as Chewbacca, Phoebe Waller-Bridge, and Woody Harrelson as Garris Shrike (unconfirmed). The movie hits theaters May 25, 2018.
Hasbro Reveals First Solo: A Star Wars Story Toys
Recreate classic moments from the STAR WARS saga and get ready for all new adventures as SOLO: A STAR WARS STORY races into theaters in May 2018! Fans will be able to imagine their own stories with HASBRO's new line of action figures and vehicles featuring beloved characters such as HAN SOLO, CHEWBACCA, and LANDO CALRISSIAN.
Items from the Spring 2018 STAR WARS product line include:
FORCE LINK ACTION FIGURES
STAR WARS FORCE LINK 2.0 STARTER SET
(Ages 4 years & up/Approx. Retail Price: $29.99/Available: Spring 2018)
Bring STAR WARS adventures to life with the newly designed FORCE LINK 2.0 STARTER SET including FORCE LINK wearable technology, which allows fans to activate movie sound effects and phrases in more than 30 compatible STAR WARS toys! Use the Force with an exclusive 3.75-inch HAN SOLO figure only available in the FORCE LINK 2.0 STARTER SET, featuring unique sounds and expressions from SOLO: A STAR WARS STORY. FORCE LINK technology unlocks an extensive collection of sounds and phrases with compatible figures, accessories, vehicles, and playsets. Includes FORCE LINK wearable technology and exclusive 3.75-inch figure. Compatible with all products in the FORCE LINK line, each sold separately. Requires 3 AAA batteries, not included. Available at most major retailers.
STAR WARS 3.75-INCH FIGURE Assortment
(Ages 4 years & up/Approx. Retail Price: $7.99/Available: Spring 2018)
Enter the world of STAR WARS and launch into action and adventure! Each 3.75-inch figure features five points of articulation and comes with unique battle accessories. Characters include classic heroes and villains, as well as favorite characters from SOLO: A STAR WARS STORY, STAR WARS: THE LAST JEDI, and ROGUE ONE: A STAR WARS STORY such as CHEWBACCA, LUKE SKYWALKER, QI'RA, K-2SO, MAZ KANATA, and more. Activate an array of sounds and phrases specific to each character with FORCE LINK 2.0 wearable technology. FORCE LINK wearable technology is compatible with all products in the FORCE LINK line, each sold separately. Available at most major retailers.
SOLO: A STAR WARS STORY 3.75-INCH KESSEL RUN MILLENNIUM FALCON VEHICLE
(Ages 4 years & up/Approx. Retail Price: $99.99/Available: Spring 2018)
Make the KESSEL RUN in less than 12 parsecs with the MILLENNIUM FALCON! Relive the adventure and imagine flying through every obstacle like ace pilot HAN SOLO with speed and action. Fans will experience flashing lights and sounds as they pretend to race along KESSEL RUN. Press the button to pretend that the iconic starship kicks in to hyperdrive with lights and sounds. Press the button a second time for accelerated lights and sounds as well as activate the rumble pack vibrations! Push the button a third time to pretend that your ship picks up even more speed and watch the panels pop off before rumbling to the finish line! Comes with an exclusive 3.75-inch scale HAN SOLO figure and removable mini ship. Both the figure and mini ship are FORCE LINK 2.0 enabled, with phrases and sounds activated by the wearable technology, sold separately. Includes 1 vehicle (with removable mini ship) and 1 figure. Requires 3 AA batteries, included. Available at most major retailers.
STAR WARS: THE BLACK SERIES Action Figures
STAR WARS: THE BLACK SERIES 6-INCH Figure Assortment
(Ages 4 years & up/Approx. Retail Price: $19.99/Available: Spring 2018)
Take your STAR WARS collection to the next level with these incredibly detailed figures. These premium 6-inch scale figures are designed with extensive detail and articulation for the ultimate collector. Characters include HAN SOLO, LANDO CALRISSIAN, and more. Each figure sold separately. Available at most major retailers and on HasbroToyShop.com.
Disney Parks' Star Wars: Galaxy's Edge Toydarian Shop to Feature Exclusive Merchandise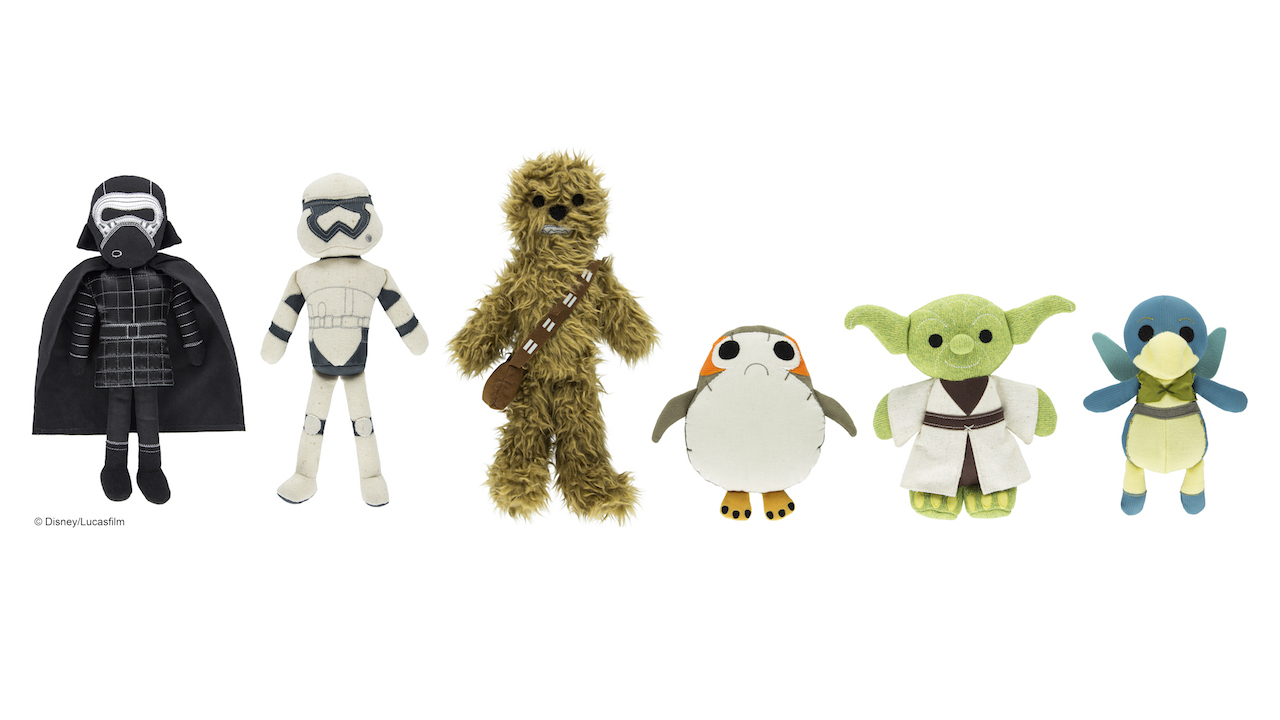 The fine folks over at the Disney Parks Blog, have given us a taste of what's to come for some of the merchandise that will be exclusive to the park. As you can see from the image above there will be a plush Kylo Ren, First Order Stormtrooper, Chewbacca, porg, Yoda, and Watto toys. No doubt, that is just the tip of the iceberg though.
At Star Wars: Galaxy's Edge, guests will visit the planet of Batuu, a remote outpost on the galaxy's edge that was once a busy crossroads along the old sub-lightspeed trade routes. Here, guests will find themselves in the middle of the action at two attractions that take detail and immersion to the next level: one that lets guests take the controls of Millennium Falcon on a customized secret mission, and an epic Star Wars adventure that puts guests in the middle of a climactic battle between the First Order and the Resistance.

Guests will also be able to explore a street market run by a Toydarian, a character first introduced in "Star Wars: The Phantom Menace." Among his wares will be handcrafted toys made by local artisans, like those seen above.

Star Wars: Galaxy's Edge is set to open at both the Disneyland and the Walt Disney World Resorts in 2019.
Are you excited for Star Wars: Galaxy's Edge? Leave your thoughts on our various social media sites!
About Walt Disney World:
At Walt Disney World, you've got a whole fantastic world to celebrate in! With four spectacular theme parks and two water parks plus the most amazing shopping, dining and recreation magic imaginable, it's no wonder all of life's special moments are made even more enjoyable when you celebrate at Walt Disney World.
Source :