Sideshow Teases K-2SO Premium Format Figure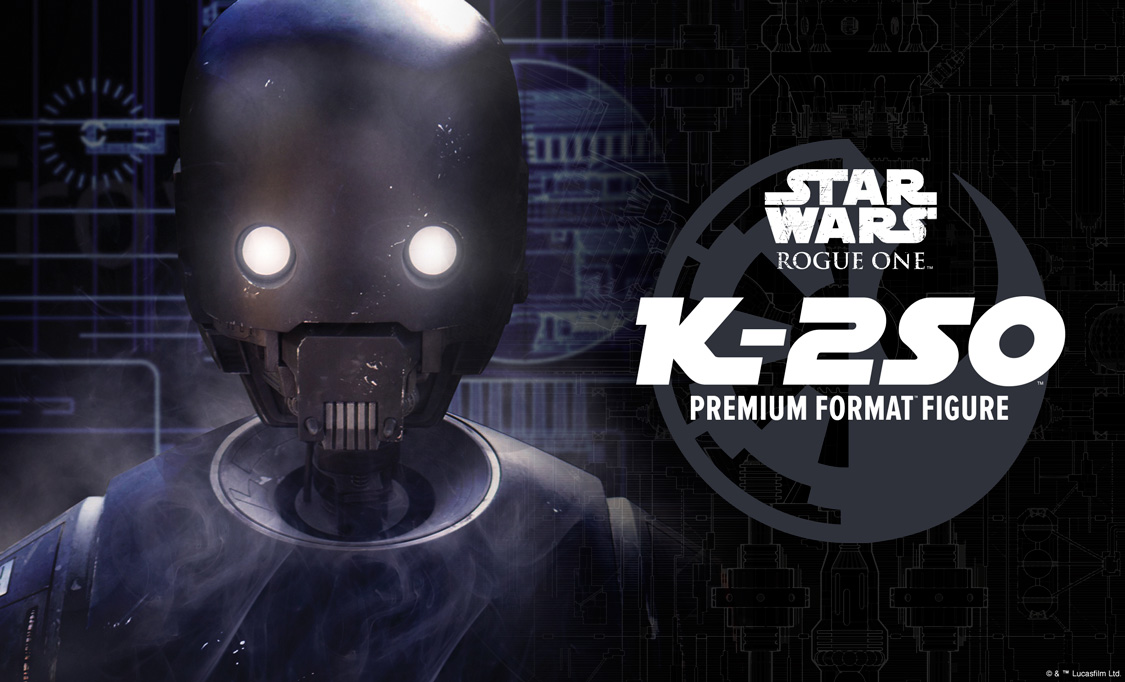 On the sixth day of Sideshow my true love gave to me, a K-2SO Premium Format Figure…  Okay, so that line sounds better when you sing it.  Anyhoo, for the sixth day of their annual "12 Days of Sideshow" event, the company previewed a K-2SO Premium Format Figure!
The company gave no indication of a release date, or pricing information, but it is nice just to be able to preview the upcoming statue.
The reprogrammed Imperial Droid from Rogue One: A Star Wars Story will be a brand new Premium Format™ Figure from Sideshow soon! Come back for updates on the K-2SO™ Premium Format Figure and be sure to pick up other Rogue One: A Star Wars Story Collectibles – Jyn Erso™ and the Death Trooper™ Specialist!
About Rogue One:
From Lucasfilm comes the first of the Star Wars standalone films, Rogue One: A Star Wars Story, an all-new epic adventure. In a time of conflict, a group of unlikely heroes band together on a mission to steal the plans to the Death Star, the Empire's ultimate weapon of destruction. This key event in the Star Wars timeline brings together ordinary people who choose to do extraordinary things, and in doing so, become part of something greater than themselves.
Rogue One: A Star Wars Story is directed by Gareth Edwards and stars Felicity Jones, Diego Luna, Ben Mendelsohn, Donnie Yen, Mads Mikkelsen, Alan Tudyk, Riz Ahmed, with Jiang Wen and Forest Whitaker. Kathleen Kennedy, Allison Shearmur and Simon Emanuel are producing, with John Knoll and Jason McGatlin serving as executive producers. Rogue One: A Star Wars Story opened in U.S. theaters on December 16, 2016.
Pre-Order Sideshow Darth Vader Legendary Scale Figure
Sideshow's Darth Vader Legendary Scale Figure #ad is now available for pre-order.  You can expect to pay $2,550.00 for this, or you can break it down into $286.00 monthly payments for a few months.
Sideshow, in partnership with Legacy Effects, is excited to present the Darth Vader Legendary Scale Figure.  This limited edition statue commands attention as the imposing Sith Lord shows you the true power of the Dark Side.
Standing over 46″ tall, Darth Vader strikes a menacing pose, using the Force to crush the hope of the Rebellion and silence his dissenters with an outstretched hand.  This 1:2 scale figure is rich with screen accurate details from his appearance in Episode IV: A New Hope.
Along with his detailed helmet, Darth Vader comes outfitted in his iconic black fabric costume, and his screen accurate chest box and belt come with light-up features.  Power them up and experience the grandeur of bringing a piece of the epic Star Wars legacy into your home.
The Darth Vader Legendary Scale Figure will make an impressive…most impressive addition to any Star Wars collection.  Rule the galaxy and add him to your collection today!
#ad Pre-Order the Star Wars Darth Vader Star Wars Legendary Scale(TM) Figure today!
Check out a few photos below, of the finished product!
Teaser Released for the Sideshow Darth Vader Legendary Scale Figure
The Sideshow Darth Vader Legendary Scale Figure will soon be going up for pre-order, and the fine folks at Sideshow Collectibles have started releasing promotional material for it.   A new teaser video has hit the web courtesy of Jedi News, that features the statue in all of its glory!
Star War's fans favorite Sith Lord is getting the Legendary Scale Figure treatment! Darth Vader is the next iconic character to join the Legendary Scale Figure collection from Sideshow. Pre-Orders for this fan favorite villain will begin on Thursday, June 29, 2017 between Noon and 3PM (Pacific Time).
You can find out more about the upcoming Darth Vader Legendary Scale Figure at Sideshow Collectibles.
About Sideshow Collectibles:
Sideshow Collectibles connects people with the characters they love!  The company is regularly distinguished for achieving a level of authenticity seldom seen in the figure collectible arena. They have been highlighted in national trade and specialty toy publications, where their Sixth Scale collectible figures, statues and packaging have been regularly awarded 'Best of the Year.'
New Han Solo Premium Format Figure from Sideshow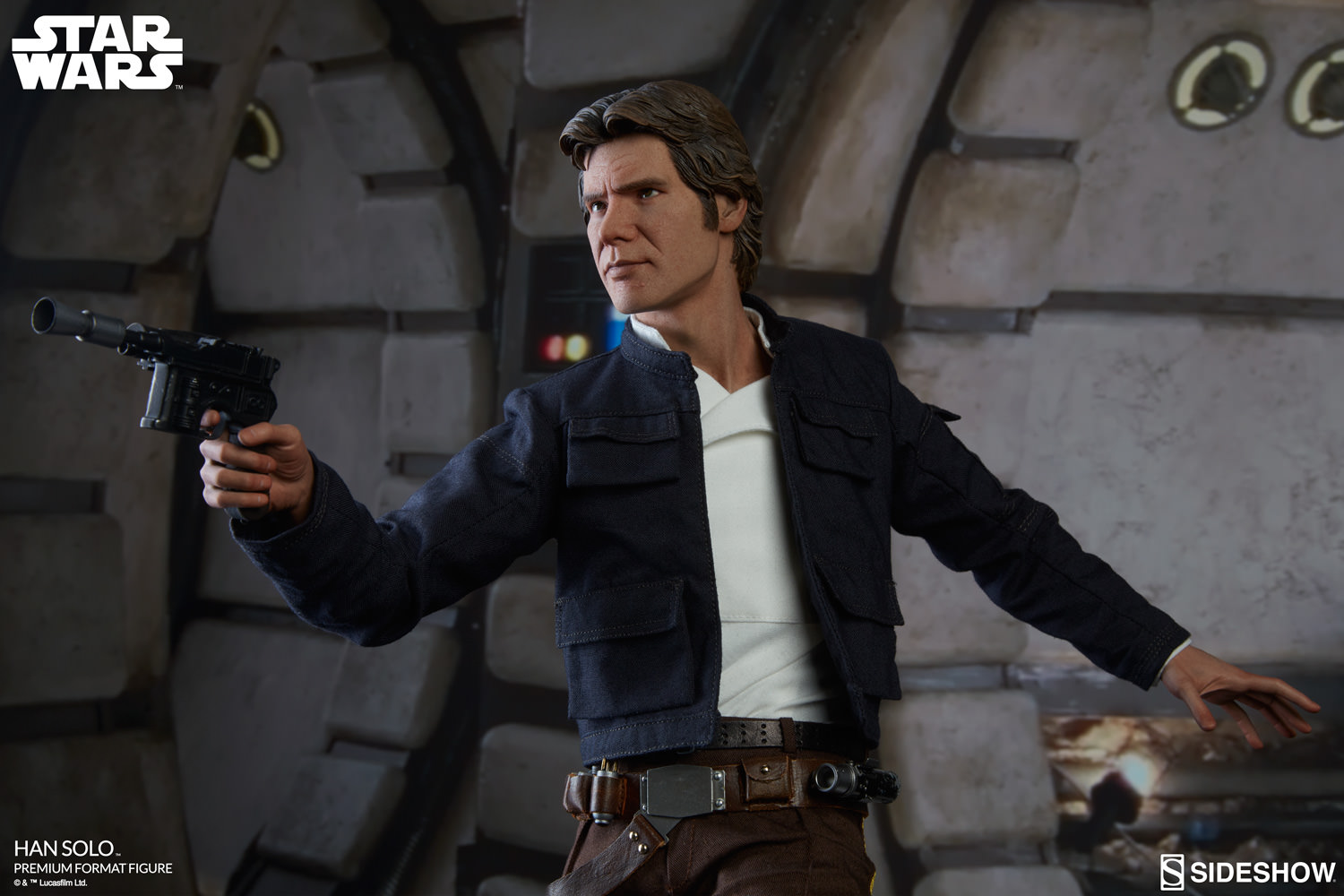 Sideshow Collectibles has released official images and details for their upcoming Han Solo Premium Format Figure!  Check out all the details and photos of the upcoming statue below!
He just got back from making the Kessel Run, and now he's ready to join your collection- Sideshow is proud to present the Han Solo Premium Format Figure.
For the look of this figure, Han Solo has been brought to life straight from Star Wars Episode V: The Empire Strikes Back.  His detailed portrait has been sculpted to capture the likeness of Harrison Ford.
The Han Solo Premium Format Figure has an authentic Episode V costume sewn from fabric and leather elements to give his look an added sense of realism, down to the details of his belt.
Taking an action stance with his blaster, Han is ready to shoot first when his enemies come to collect what he owes.  He stands on top of a Millennium Falcon inspired base to complete the scene, proving this smuggling scoundrel has the heart of a rebel.
The Exclusive edition of this statue comes with a right hand equipped with an E-11 blaster for additional display options.
No time to discuss this as a committee, pre-order the regular edition of the Star Wars Han Solo Star Wars Premium Format(TM) Figure, or pre-order the exclusive Star Wars Han Solo Star Wars Premium Format(TM) Figure edition, from Sideshow Collectibles!
Artists:
Rachel Roubicek (Design)
Jean-Paul Mavinga (Design)
Matt Black (Design & Sculpt)
Daniel Staig (Design & Sculpt)
Tom Gilliland (Design)
Trevor Grove (Sculpt)
Tim Niver (Sculpt)
Adam Smith (Mold & Cast)
Chadwick Anderson (Mold & Cast)
Wan Lee (Paint)
Bernardo Esquivel (Paint)
Esther Skandunas (Costume Fabrication)
The Sideshow Design and Development Team
ADDITIONAL DETAILS & DIMENSIONS
Expected to Ship
May 2018 – Jul 2018
Item shown is a prototype. When shipped, the final production piece may differ in appearance.
Product Size – 20″ H (508mm) x 14″ W (355.6mm) x 15″ L (381mm)*
Product Weight – 15.00 lbs (6.8 kg)*
Dimensional Weight – TBD
Int'l Dim. Weight – TBD
* Size and weight are approximate values.
SKU – 3005001
UPC – 747720233775
Source :