Official Photos of SH Figuarts Star Wars Biker Scout and Speeder Bike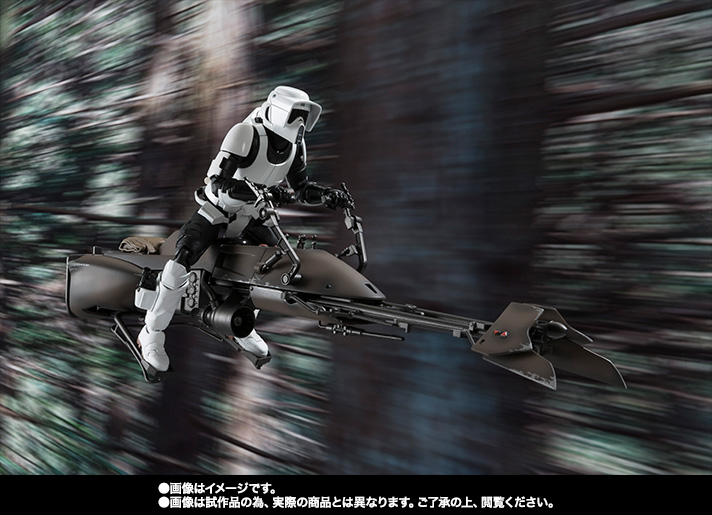 Tamashii Nations has released official photos and product information for their upcoming Biker Scout and Speeder Bike Set.  The Biker Scout comes with a blaster pistol, as well as one of the coolest speeder bikes ever created.  This one is scheduled for release in March 2016.  It will cost around $100.00 and will more than likely be a Tamashii website store exclusive.
Check out the images of the new figure and vehicle below!
Scout troopers, also known as biker scouts, were specially trained soldiers of the Imperial Stormtrooper Corps. As light-armored variants of the Imperial stormtroopers, scout troopers were specifically trained for activities too complicated for regular infantry troopers. As such, they were exceptional additions to the Imperial Military as reconnaissance troops, spies and survivalists.
The 74-Z speeder bike, sometimes referred to as the Imperial speeder bike due to its use by scout stormtroopers of the Galactic Empire, was a speeder bike manufactured by Aratech Repulsor Company used for reconnaissance purposes, as well as rapid transportation in combat zones. — wookipedia
New Darth Vader TIE Advanced Star Wars Transformers Figure?
In news that seems to have come out of left field, Takara Tomy (the makers of the Transformers line in Japan), are going to release a new Darth Vader TIE Advanced Star Wars Transformers figure. We haven't seen Star Wars Transformers in quite some time, so it is rather puzzling why this is making a return.
The Darth Vader figure transforms into the TIE Advanced X1 Vehicle, complete with functioning cockpit and miniature Darth Vader Figure. Also included is Darth Vader's red lightsaber, which can be mounted to the vehicle. As part of an "initial release" campaign, there will be five mini Stormtrooper figures included.
You can expect to start seeing this one in March 2018, and you will most likely have to hit up a dealer that imports toys.
Check out the official photos below.
About Takara Tomy:
Tomy Company, Ltd. is a Japanese entertainment company that makes children's toys and merchandise. It was created from a merger on March 1, 2006 of two companies: Tomy and long-time rival Takara. The company has its headquarters in Katsushika, Tokyo.
Source :
NYCC 2017: Official Images of Upcoming Hasbro Star Wars Figures
The Hasbro marketing team has sent over new photos of some of the new Star Wars products on display at New York Comic-Con 2017. Fans of the original trilogy will be pleasantly surprised by the choices for the 6″ Black Series line.
Bounty hunters 4-LOM and Dengar are represented as well as Lando Calrissian in his Jabba Palace disguise. Check out the list of figures below, as well as a gallery of fantastic images!
Black Series 6 4-LOM
Black Series 6 Dengar
Black Series 6 DJ
Black Series 6 ROTJ Lando
Black Series 6 Rey w/ Cloak
3.75 C'Ai Thenalli
3.75 Maz Katana
3.75 2 Pack Capt. Phasma and Finn
NYCC 2017: Hot Toys at the Sideshow Booth
Sideshow Collectibles has a nice NYCC 2017 Hot Toys display setup at their booth. Thanks to ToyArk, we have a look at some of the new Hot Toys Star Wars items that are making their debut at the convention.
You can check out some of the photos below. If you want even more detailed images, check out the ToyArk link at the bottom of the article. You can currently pre-order the Star Wars Boba Fett Animation Version Star Wars Sixth Scale Figure from Sideshow Collectibles, now.
About Hot Toys:
Based in Hong Kong, Hot Toys Limited is a production company specializing in sixth scale collectible figures featuring actual likenesses of film based characters including Batman, Iron Man, Captain America, Thor, The Avengers, and more. Sideshow Collectibles is the official distributor of Hot Toys figures in the US, North and South America, Europe, Australia and select Asian countries.
Source :