New LEGO Star Wars DJ Mini-Figure Starting to Appear at Toys R' Us
If you have been patiently waiting on the Toys R' Us exclusive LEGO DJ mini-figure from Star Wars: The Last Jedi, then you might want to head out to your local TRU. Originally rumored for a January 1st release, some collectors have started seeing them on shelves. Reddit reader Flynnlives89 snagged a couple from his local TRU in Iowa. He then said that after he purchased them, the store manager took the rest off the pegs until January 9th.
Currently there is no information concerning pricing, but if I were a betting man, it would probably be in the $3 to $4.99 neighborhood.
DJ (40298) is similar to some of the recent LEGO Star Wars mini-figure polybags like R3-M2 and the Scarif Stormtrooper (40176) in which they have a connectible stand along with a background card.
About Star Wars: The Last Jedi:
Star Wars: The Last Jedi is currently at theaters nationwide. Directed by Rian Johnson and starring Mark Hamill, Carrie Fisher, John Boyega, Daisy Ridley, Oscar Isaac, Benicio del Toro, Laura Dern, Jimmy Vee, and more! Music will be composed by John Williams.
LEGO Kessel Run Millennium Falcon Revealed!
LEGO has officially unveiled one of their upcoming sets for Solo: A Star Wars Story. The new set includes seven mini-figures, two of which are not shown. As you can see, the new LEGO set gives us a look at the new/old vehicle. From this look it appears the main guns have changed, as well as the satellite dish, and front end. These are just a few of the changes that have been to the earlier version of the ship.
Check out all the details, including a few images below!
75212 – Kessel Run Millennium Falcon™
Piece Count: 1,414
Price: $169.99 
Outsmart the villainous overseers and escape the Kessel Mines aboard the amazing Millennium Falcon! Pull amazing maneuvers from the cockpit. Jump in the laser turrets and fire back at pursuing craft. Then check the hyperdrive and get ready to jump to safety! After all that excitement, kick back with Han and his friends with a drink from the bar, while you let Chewbacca win at Dejarik. Then it's off to bed for a well-earned snooze in the bunk aboard the fastest ship in the galaxy! 
Characters
Han Solo™; Chewbacca™; Qi'ra™; Lando Calrissian™; Kessel droid and two additional characters!
New products inspired by new and beloved characters from Solo: A Star Wars Story will start rolling out at retail in April.
About Solo: A Star Wars Story:
The upcoming Han Solo film will be directed by Ron Howard, and will be produced by Kathleen Kennedy, Allison Shearmur, and Simon Emanuel. The film stars Alden Ehrenreich as Han Solo, Donald Glover as Lando Calrissian, Emilia Clarke, Joonas Suotamo as Chewbacca, Phoebe Waller-Bridge, and Woody Harrelson as Garris Shrike (unconfirmed). The movie hits theaters May 25, 2018.
DK Announced New LEGO The Last Jedi Book
Join Rey, Poe, Rose, and Finn on their new adventures in this exciting LEGO® Star Wars(TM) book for children learning to read.
Packed with images from LEGO Star Wars sets, this book is a fun way to meet the brave heroes of the Resistance and the villains of the First Order. Read about General Leia Organa and her friend Vice Admiral Holdo. Find out about Kylo Ren and the First Order's stormtrooper soldiers. Learn about the Force and explore the story of the Jedi.
Exciting images, simple vocabulary, and a fun quiz will engage young readers and help them build confidence in reading. Combining DK's four-level reading scheme with the popular LEGO Star Wars theme, LEGO Star Wars: The Last Jedi is at Level 2 and will help kids learn to read-and to love reading.
You can currently pre-order this one from Amazon, for a cool $4.99. It will be available March 6, 2018.
Note: If you purchase one of the awesome products featured above, we earn a small commission from the retailer. Thank you for your support.
LEGO Star Wars February Double VIP Points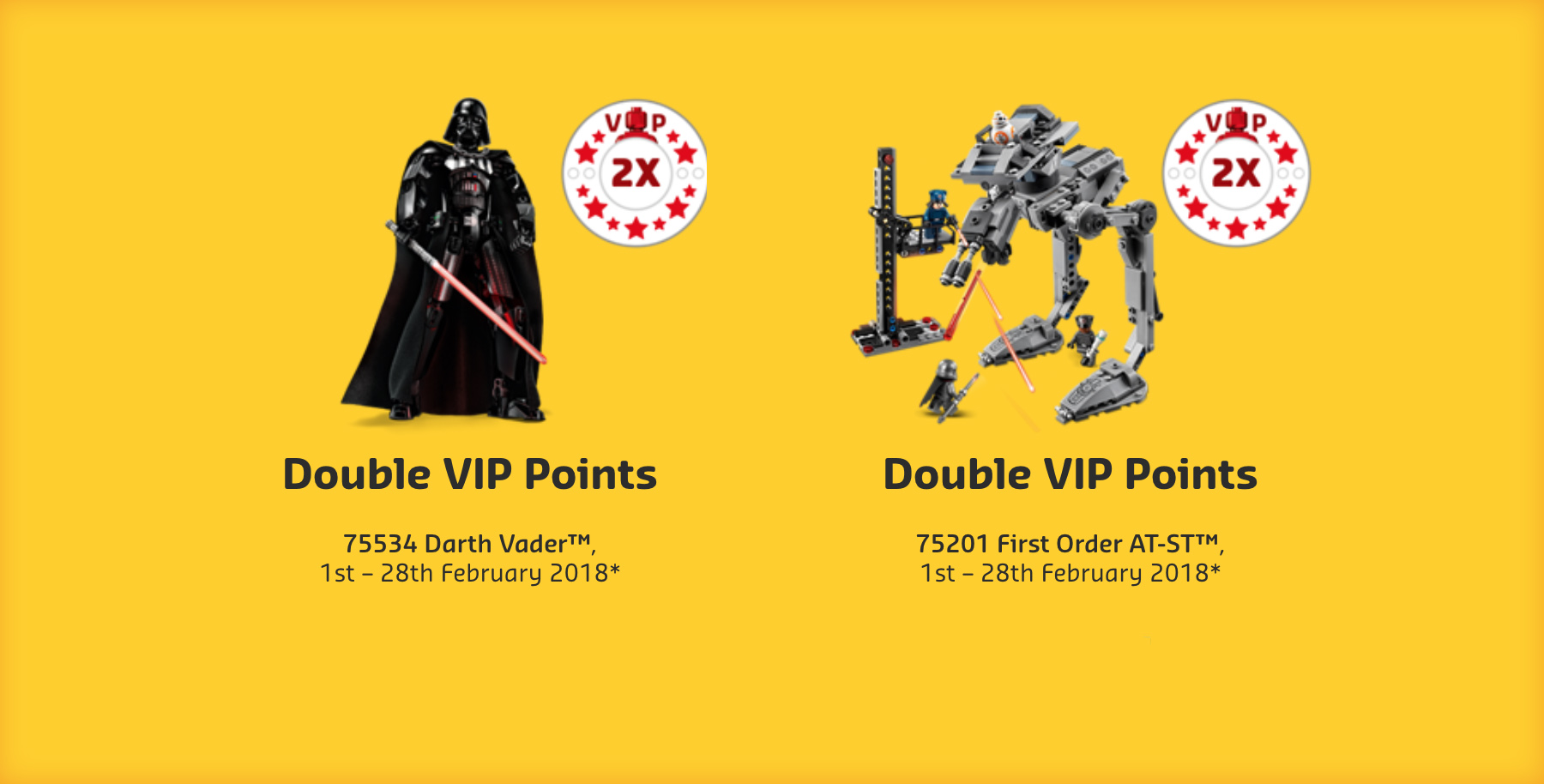 February brings a new LEGO Star Wars promotion with it! Now until the end of the month you can get double LEGO VIP points on two new LEGO Star Wars sets at shop.LEGO.com. The two sets are the 75534 Darth Vader set, and the 75201 First Order AT-ST set.
If you are not a VIP member, sign up for free at LEGO's official website. With a VIP membership, you can get early access to exclusive LEGO sets, members only gifts, and monthly promotions. Remember each dollar you spend translates to one VIP point. Use those points to purchase sets at LEGO's official website.
This offer is valid in all regions between the 1st and 28th February 2018 in LEGO® Stores, via shop.LEGO.com or orders over the phone. Offer applies to items 75534 and 75201 only. For online and telephone orders, points are attributed to the account once payment has been received. Points will not be credited retrospectively for purchases made prior to, or after this promotion. Points will not be earned on any applicable taxes or shipping charges. Offer cannot be combined with any other VIP offer, discount or coupon. Offer is not valid at LEGOLAND® Parks, LEGOLAND Discovery Centers or LEGO Certified Stores. The LEGO Group reserves the right to amend or cancel this promotion at any time without prior notice. Subject to availability.
About LEGO:
LEGO is a line of building toys manufactured by the Lego Group, a privately held company based in Denmark. The company's flagship product, commonly referred to as "LEGO bricks," consists of colorful interlocking plastic bricks and an accompanying array of gears, mini-figures, and various other parts. There are other LEGO pieces that can be assembled and connected in many ways to construct such objects as vehicles, buildings, and even working robots.