LEGO UCS Millennium Falcon Biggest Set Ever!
Welcome to the largest, most detailed LEGO® Star Wars Millennium Falcon model we've ever created—in fact, with over 7,500 pieces it is the biggest LEGO model ever sold! This amazing LEGO interpretation of Han Solo's unforgettable Corellian freighter has all the details that Star Wars fans of any age could wish for, including intricate exterior detailing, upper and lower quad laser cannons, landing legs, lowering boarding ramp and a 4-minifigure cockpit with detachable canopy. Remove individual hull plates to reveal the highly detailed main hold, rear compartment and gunnery station. This amazing model also features interchangeable sensor dishes and crew, so you decide whether to play out classic LEGO Star Wars adventures with Han, Leia, Chewbacca and C-3PO, or enter the world of Episode VII and VIII with older Han, Rey, Finn and BB-8!
75192 Millennium Falcon
Ages 16+. 7,541 pieces.
US $799.99
As shown in the images, the set will include minifigures from the Empire Strikes Back (Chewbacca, Leia, Han Solo and C3PO) and from the Force Awakens (Rey, TFA Han Solo, Finn and BB8). It will also include a brick built Mynock and two Porgs. To allow buyers to display the ship as it was in either TESB or TFA, the kit also includes a separate build for the rectangular radar dish from TFA which can be swapped with the circular one from TESB and features two builds to modify the craft's mandibles to how they were seen in TFA.
Lego previously released a Millennium Falcon as part of their UCS line a few years ago but this one is much bigger, more detailed and complex, making use of new pieces and different techniques to create a model that looks even more impressive and realistic. Furthermore, it has parts of a detailed interior, as seen in the photos, unlike the previous release, which are accessible by removing parts of the roof structure and has enough space to comfortably seat the figures. These include the gun station, cockpit, part of the corridor seen in TESB, the seating area with holochess table and the room where Finn and Rey attempt to make repairs in TFA. It also features a working boarding ramp, 7 landing legs and concealed blaster cannon. If you want an even closer look at these intricate details on the model then the designer video for the set has also been released.
If the previous UCS incarnation of the iconic vehicle was anything to go by, once this set gets discontinued in 2 years, its price will skyrocket so those wanting to get this set will have to begin remortgaging now.
Includes 4 classic crew minifigures: Han Solo, Chewbacca, Princess Leia and C-3PO.
Also includes 3 Episode VII/VIII crew minifigures: Older Han Solo, Rey and Finn.
Figures include a BB-8 droid, 2 buildable Porgs and a buildable Mynock.
Exterior features include intricately detailed and removable hull panels, a lowering boarding ramp, concealed blaster cannon, 4-minifigure cockpit with detachable canopy, interchangeable round/rectangular sensor dishes, upper and lower quad laser cannons, and 7 landing legs.
Main hold features a seating area, Dejarik holographic game, combat remote training helmet, engineering station with turning minifigure seat and a doorway build with passageway decoration.
Rear compartment features the engine room with hyperdrive and console, 2 doorways, hidden floor compartment, 2 escape pod hatches, engineering console and an access ladder to the gunnery station.
Gunnery station features a minifigure gunner's seat and detachable hull panel with fully rotating quad laser cannon. An additional quad laser cannon is also mounted on the underside.
Also includes an informational fact plaque.
Features a new cockpit canopy element.
Classic crew weapons include Han's blaster pistol and Chewbacca's stud-firing bowcaster.
Episode VII/VIII crew weapons include Han's blaster, Rey's small silver blaster and Finn's medium blaster rifle.
Change out the features and crew characters to switch between classic and Episode VII/VIII versions of the Millennium Falcon!
Open individual hull panels to access the detailed interior while retaining the overall exterior appearance.
Slide the panel to reveal the concealed blaster cannon.
Turn classic Leia's and Han's head to reveal their breathing mask decoration.
Makes the perfect intergalactic toy or flagship display model.
Measures over 8" (21cm) high, 33" (84cm) long and 22" (56cm) wide.
Available for sale directly through LEGO® beginning October 1, 2017 via shop.LEGO.com, LEGO® Stores or via phone:
US Contact Center 1-800-453-4652
LEGO Kessel Run Millennium Falcon Revealed!
LEGO has officially unveiled one of their upcoming sets for Solo: A Star Wars Story. The new set includes seven mini-figures, two of which are not shown. As you can see, the new LEGO set gives us a look at the new/old vehicle. From this look it appears the main guns have changed, as well as the satellite dish, and front end. These are just a few of the changes that have been to the earlier version of the ship.
Check out all the details, including a few images below!
75212 – Kessel Run Millennium Falcon™
Piece Count: 1,414
Price: $169.99 
Outsmart the villainous overseers and escape the Kessel Mines aboard the amazing Millennium Falcon! Pull amazing maneuvers from the cockpit. Jump in the laser turrets and fire back at pursuing craft. Then check the hyperdrive and get ready to jump to safety! After all that excitement, kick back with Han and his friends with a drink from the bar, while you let Chewbacca win at Dejarik. Then it's off to bed for a well-earned snooze in the bunk aboard the fastest ship in the galaxy! 
Characters
Han Solo™; Chewbacca™; Qi'ra™; Lando Calrissian™; Kessel droid and two additional characters!
New products inspired by new and beloved characters from Solo: A Star Wars Story will start rolling out at retail in April.
About Solo: A Star Wars Story:
The upcoming Han Solo film will be directed by Ron Howard, and will be produced by Kathleen Kennedy, Allison Shearmur, and Simon Emanuel. The film stars Alden Ehrenreich as Han Solo, Donald Glover as Lando Calrissian, Emilia Clarke, Joonas Suotamo as Chewbacca, Phoebe Waller-Bridge, and Woody Harrelson as Garris Shrike (unconfirmed). The movie hits theaters May 25, 2018.
DK Announced New LEGO The Last Jedi Book
Join Rey, Poe, Rose, and Finn on their new adventures in this exciting LEGO® Star Wars(TM) book for children learning to read.
Packed with images from LEGO Star Wars sets, this book is a fun way to meet the brave heroes of the Resistance and the villains of the First Order. Read about General Leia Organa and her friend Vice Admiral Holdo. Find out about Kylo Ren and the First Order's stormtrooper soldiers. Learn about the Force and explore the story of the Jedi.
Exciting images, simple vocabulary, and a fun quiz will engage young readers and help them build confidence in reading. Combining DK's four-level reading scheme with the popular LEGO Star Wars theme, LEGO Star Wars: The Last Jedi is at Level 2 and will help kids learn to read-and to love reading.
You can currently pre-order this one from Amazon, for a cool $4.99. It will be available March 6, 2018.
Note: If you purchase one of the awesome products featured above, we earn a small commission from the retailer. Thank you for your support.
LEGO Star Wars February Double VIP Points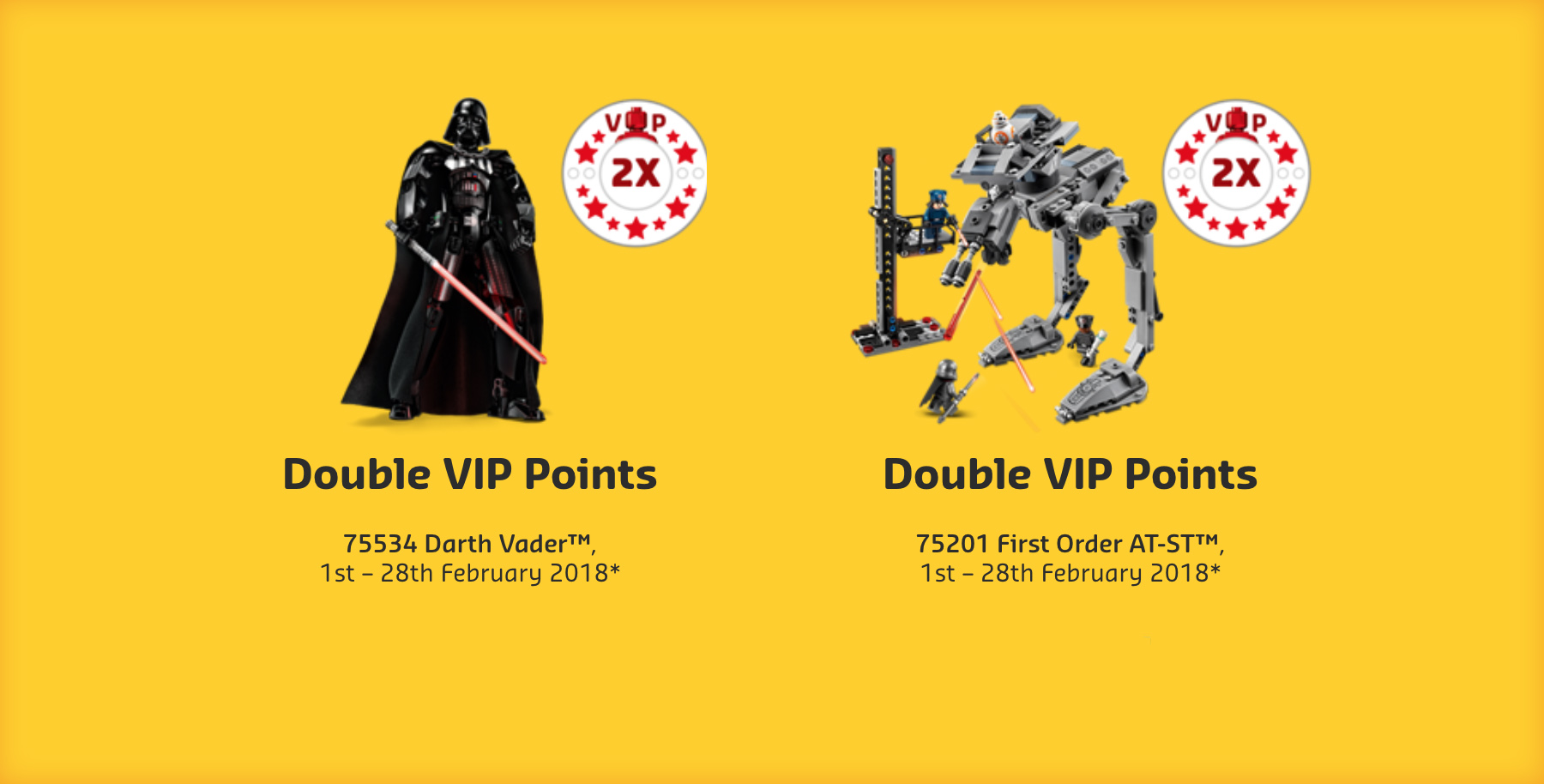 February brings a new LEGO Star Wars promotion with it! Now until the end of the month you can get double LEGO VIP points on two new LEGO Star Wars sets at shop.LEGO.com. The two sets are the 75534 Darth Vader set, and the 75201 First Order AT-ST set.
If you are not a VIP member, sign up for free at LEGO's official website. With a VIP membership, you can get early access to exclusive LEGO sets, members only gifts, and monthly promotions. Remember each dollar you spend translates to one VIP point. Use those points to purchase sets at LEGO's official website.
This offer is valid in all regions between the 1st and 28th February 2018 in LEGO® Stores, via shop.LEGO.com or orders over the phone. Offer applies to items 75534 and 75201 only. For online and telephone orders, points are attributed to the account once payment has been received. Points will not be credited retrospectively for purchases made prior to, or after this promotion. Points will not be earned on any applicable taxes or shipping charges. Offer cannot be combined with any other VIP offer, discount or coupon. Offer is not valid at LEGOLAND® Parks, LEGOLAND Discovery Centers or LEGO Certified Stores. The LEGO Group reserves the right to amend or cancel this promotion at any time without prior notice. Subject to availability.
About LEGO:
LEGO is a line of building toys manufactured by the Lego Group, a privately held company based in Denmark. The company's flagship product, commonly referred to as "LEGO bricks," consists of colorful interlocking plastic bricks and an accompanying array of gears, mini-figures, and various other parts. There are other LEGO pieces that can be assembled and connected in many ways to construct such objects as vehicles, buildings, and even working robots.