First Images of LEGO Star Wars Winter 2016 Sets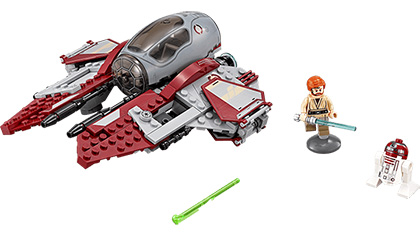 LEGO Star Wars fans have been anxious to see even more upcoming Star Wars sets coming from the company, and website Groove Bricks has found the mother load!  The images are not very big, but it does give us an idea as to what we can expect from these sets.
75133 SW Battlefront Rebels Battle Pack
75134 SW Battlefront Empire Battle Pack
75135 Obi-Wan's Jedi Interceptor
75137 Carbon Freezing Chamber
75138 Hoth Attack
75140 The Pirate Transport
75141 Kanan's Speeder Bike
75142 Homing Spider Droid
It seems that we will be getting a couple of Star Wars Battlefront sets, which is pretty cool, but the biggest news out of this list is the lone Star Wars: The Force Awakens set, The Pirate Transport.  It seems that this set will include Leia and what looks to be Admiral Ackbar.
Enjoy the first images of the upcoming sets below!
NYCC 2017: Exclusive LEGO Star Wars BrickHeadz Boba Fett & Han In Carbonite
Heads up for those attending New York Comic-Con this weekend. You can enter for a chance to be one of the lucky ones to own this brand new LEGO Star Wars Brickheadz Boba Fett & Han Solo set.
The NYCC exclusive will be the first ever LEGO® BrickHeadz featuring characters from Star Wars™ – double pack of Boba Fett™ & Han Solo™ in Carbonite.
A few product details on the brand-new set:
Pieces: 329
Price: $40
This product is an New York Comic-Con retail exclusive, available only at the LEGO Group's mobile experience during New York's Comic-Com. You can find out more information about how consumers can obtain an exclusive BrickHeadz set at the show here: http://www.newyorkcomiccon.com/Content/Pre-Show-Lotteries/. The LEGO Mobile experiences will feature a truck where attendees who have won the lottery may purchase the exclusive, and other attendees can purchase sets from the current LEGO BrickHeadz assortment. There also will a life size BrickHeadz model for photo opps.
The Han Solo is the first LEGO BrickHeadz that has closed-eyes – and is the biggest BrickHeadz base made to date.
All decorated parts are new and exclusive to this Comic-Con model
LEGO UCS Millennium Falcon Biggest Set Ever!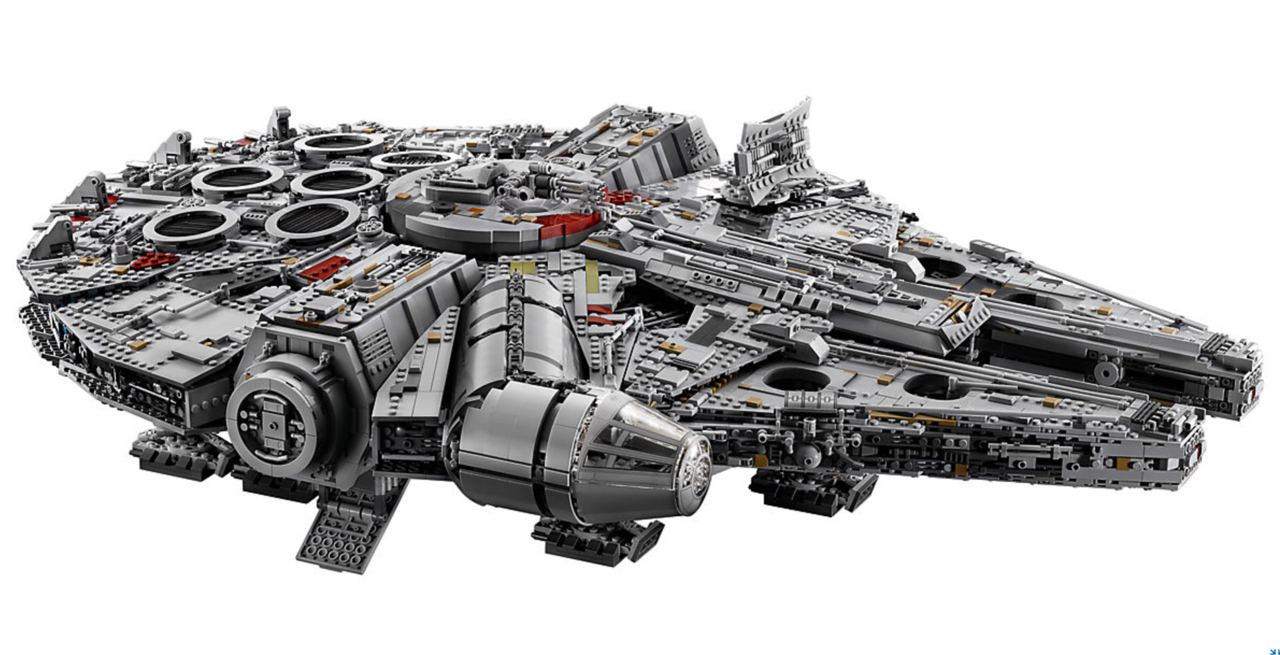 Welcome to the largest, most detailed LEGO® Star Wars Millennium Falcon model we've ever created—in fact, with over 7,500 pieces it is the biggest LEGO model ever sold! This amazing LEGO interpretation of Han Solo's unforgettable Corellian freighter has all the details that Star Wars fans of any age could wish for, including intricate exterior detailing, upper and lower quad laser cannons, landing legs, lowering boarding ramp and a 4-minifigure cockpit with detachable canopy. Remove individual hull plates to reveal the highly detailed main hold, rear compartment and gunnery station. This amazing model also features interchangeable sensor dishes and crew, so you decide whether to play out classic LEGO Star Wars adventures with Han, Leia, Chewbacca and C-3PO, or enter the world of Episode VII and VIII with older Han, Rey, Finn and BB-8!
75192 Millennium Falcon
Ages 16+. 7,541 pieces.
US $799.99
As shown in the images, the set will include minifigures from the Empire Strikes Back (Chewbacca, Leia, Han Solo and C3PO) and from the Force Awakens (Rey, TFA Han Solo, Finn and BB8). It will also include a brick built Mynock and two Porgs. To allow buyers to display the ship as it was in either TESB or TFA, the kit also includes a separate build for the rectangular radar dish from TFA which can be swapped with the circular one from TESB and features two builds to modify the craft's mandibles to how they were seen in TFA.
Lego previously released a Millennium Falcon as part of their UCS line a few years ago but this one is much bigger, more detailed and complex, making use of new pieces and different techniques to create a model that looks even more impressive and realistic. Furthermore, it has parts of a detailed interior, as seen in the photos, unlike the previous release, which are accessible by removing parts of the roof structure and has enough space to comfortably seat the figures. These include the gun station, cockpit, part of the corridor seen in TESB, the seating area with holochess table and the room where Finn and Rey attempt to make repairs in TFA. It also features a working boarding ramp, 7 landing legs and concealed blaster cannon. If you want an even closer look at these intricate details on the model then the designer video for the set has also been released.
If the previous UCS incarnation of the iconic vehicle was anything to go by, once this set gets discontinued in 2 years, its price will skyrocket so those wanting to get this set will have to begin remortgaging now.
Includes 4 classic crew minifigures: Han Solo, Chewbacca, Princess Leia and C-3PO.
Also includes 3 Episode VII/VIII crew minifigures: Older Han Solo, Rey and Finn.
Figures include a BB-8 droid, 2 buildable Porgs and a buildable Mynock.
Exterior features include intricately detailed and removable hull panels, a lowering boarding ramp, concealed blaster cannon, 4-minifigure cockpit with detachable canopy, interchangeable round/rectangular sensor dishes, upper and lower quad laser cannons, and 7 landing legs.
Main hold features a seating area, Dejarik holographic game, combat remote training helmet, engineering station with turning minifigure seat and a doorway build with passageway decoration.
Rear compartment features the engine room with hyperdrive and console, 2 doorways, hidden floor compartment, 2 escape pod hatches, engineering console and an access ladder to the gunnery station.
Gunnery station features a minifigure gunner's seat and detachable hull panel with fully rotating quad laser cannon. An additional quad laser cannon is also mounted on the underside.
Also includes an informational fact plaque.
Features a new cockpit canopy element.
Classic crew weapons include Han's blaster pistol and Chewbacca's stud-firing bowcaster.
Episode VII/VIII crew weapons include Han's blaster, Rey's small silver blaster and Finn's medium blaster rifle.
Change out the features and crew characters to switch between classic and Episode VII/VIII versions of the Millennium Falcon!
Open individual hull panels to access the detailed interior while retaining the overall exterior appearance.
Slide the panel to reveal the concealed blaster cannon.
Turn classic Leia's and Han's head to reveal their breathing mask decoration.
Makes the perfect intergalactic toy or flagship display model.
Measures over 8" (21cm) high, 33" (84cm) long and 22" (56cm) wide.
Available for sale directly through LEGO® beginning October 1, 2017 via shop.LEGO.com, LEGO® Stores or via phone:
US Contact Center 1-800-453-4652
Star Wars Celebration Exclusive LEGO Detention Block Rescue
To celebrate the 40th anniversary of the Star Wars saga, Star Wars Celebration Orlando 2017 attendees will have the chance to enter a raffle to purchase a special-edition LEGO Star Wars set inspired by the Detention Block AA-23 from the original 1977 film! A Star Wars Celebration exclusive, the LEGO Detention Block Rescue set includes Luke Skywalker and Han Solo in Stormtrooper disguises ready to infiltrate the Death Star and rescue Princess Leia.
The opportunity to purchase this exclusive set is being raffled off on the Star Wars Celebration website prior to the event for attendees only, beginning now through 12:01AM EST on Thursday, April 6th. All winners will be randomly selected to purchase the exclusive onsite at the LEGO booth next week, and will be notified by April 7th.
Attendees can enter the raffle to purchase the set here: http://www.starwarscelebration.com/Events/LEGO-lottery/
About Star Wars Celebration:
Star Wars Celebration is the ultimate fan experience focused on a galaxy far, far away…
There has never been a more exciting time to be a Star Wars fan, and Star Wars Celebration in Orlando, USA will bring fans of all ages together, from all around the world, to celebrate the pop culture phenomenon that is Star Wars — all on the cusp of new Star Wars movies and television shows! Looking ahead, while celebrating all that has come before, there's something for everyone at Star Wars Celebration!
Celebration – Lucasfilm's love letter to fans – is four fun-filled days of costumes, exhibits, a vibrant, interactive show floor, screenings, exclusive merchandise, celebrity guests, panels, autograph sessions, fan-inspired activities, and other surprises celebrating all things Star Wars! Star Wars Celebrations deliver a landmark experience where memories are made, families brought together, old friends reunited, and new friendships formed — all in the setting of the ever-evolving Star Wars universe.