Kotobukiya Reveals The Force Awakens Rey and Finn Statue 2-Pack
Kotobukiya has released official photos of their upcoming Star Wars: The Force Awakens Rey and Finn Statue 2-Pack.
The Rey Statue includes her staff, while Finn includes a blaster rifle. Both Rey and Finn will have swap out parts that will let you display them with Anakin's original lightsaber. The 2-pack will be released in July of 2017.
Check out the official images and solicitation information below.
A KOTOBUKIYA Japanese import! Star Wars ARTFX+ Statues bring you all of the quality and detailing that you expect from an ARTFX release in a great smaller scale perfect for collecting! Kotobukiya has brought you a range of characters from Star Wars Episode VII: The Force Awakens with an emphasis on the Dark Side and the First Order, but now the Resistance is bolstered by a tremendous new two pack featuring the film's newest generation of heroes: REY AND FINN! Before Kylo Ren followed Poe Dameron to Jakku Finn was a loyal stormtrooper designated FN-2187. But after witnessing the atrocities the First Order inflicted on innocent villagers he escaped with the Resistance pilot and joined the side of good. Reluctant at first, Finn became a true hero during the attack on the Starkiller Base, even facing down Kylo Ren in one-on-one combat. Rey, meanwhile, grew up on Jakku barely subsisting on rations procured through the scavenger trade. A chance meeting with BB-8 propelled the girl into galaxy-changing events and through piloting the Millennium Falcon and escaping from the First Order's clutches she would discover and explore her burgeoning Force abilities.
Both are making their ARTFX+ debuts in this dynamic set that captures the characters in their most iconic Force Awakens appearances: Rey wears her billowy scavenger outfit with loose-fitting clothing and wraps while Finn covers his dusty black shirt and trousers with Poe Dameron's signature brown jacket with red and silver accents. They both come ready for action as Finn wields the blaster given to him by Han Solo and Rey stands on guard with her staff. But that's not all. These highly detailed 1/10th scale figures even come with interchangeable arm and weapon parts so that either one can wield Luke Skywalker's blue lightsaber!Both Rey and Finn have magnets in their feet for extra stability on their included metal display bases. These fun-to-assemble, pre-painted snap-fit kits can be put together easily in seconds without glue or modeling skill, and are perfect for a wide range of Star Wars fans. Join the Resistance with Finn and Rey and add them to your Force Awakens ARTFX+ collection from Kotobukiya!
© & ™ Lucasfilm Ltd.
Other Star Wars Statues in this line include:
Several New ACME Archives Star Wars Prints Hit the Internet
If you love Star Wars art as much as I do, then you will love some of these new lithographs, canvases, and glicees from ACME Archives. Site affiliate Entertainment Earth (#ad) has revealed quite a few that are now up for pre-order.
Star Wars Conquering Shadow by Raymond Swanland
"Stunning" is just one of the many kudos one could use to describe this one-of-a-kind Star Wars Conquering Shadow by Raymond Swanland Canvas Giclee Art Print from Acme Archives. The unframed Star Wars-inspired artwork featuring Darth Vader and his frightening power is a limited edition of only 150 hand-numbered pieces that measures 30-inches wide x 15-inches tall and comes with a certificate of authenticity. It's signed by artist Raymond Swanland!
Star Wars Dark Side Blend by Steve Thomas Gallery-Wrapped Canvas Giclee Art Print
If you haven't tried Darth Vader's special "Dark Side Blend" of coffee, it's time for you to "Reach for a Cup!" like it says on this Star Wars Dark Side Blend by Steve Thomas Gallery-Wrapped Canvas Giclee Art Print. (The "or else" is just implied.) Artist Steve Thomas' immensely popular (and sold out) Star Wars "vintage ad" series is now available as part of Acme Archive's Gem canvas collection! This unframed canvas print comes gallery wrapped around a 1 1/2-inch wooden stretcher bar and is ready to hang on your wall (or give as a gift). It's a hand-numbered limited edition of just 495 pieces that measures 17-inches tall x 12 3/4-inches wide and comes with a certificate of authenticity.
Star Wars Daybreak on Hoth by Rich Davies
Star Wars Dogfight at Sunset by Rich Davies
Giclee (pronounced "zhee-clay") is an invented name for the process of making fine-art prints from a digital source using inkjet printing. The word was coined to distinguish commonly known industrial "Iris proofs" from the fine-art prints artists were producing on the same printers. The name has since come to mean any high-quality inkjet print and is often used in galleries and print shops to denote such. In the past few years, the word (as a fine-art term) has come to be associated with prints using fade-resistant "archival" inks and the inkjet printers that use them. A wide variety of substrates are available, including various textures and finishes, such as matte photo paper, watercolor paper, cotton canvas, or artist textured vinyl.
Hot Toys Previews The Empire Strikes Back Darth Vader Figure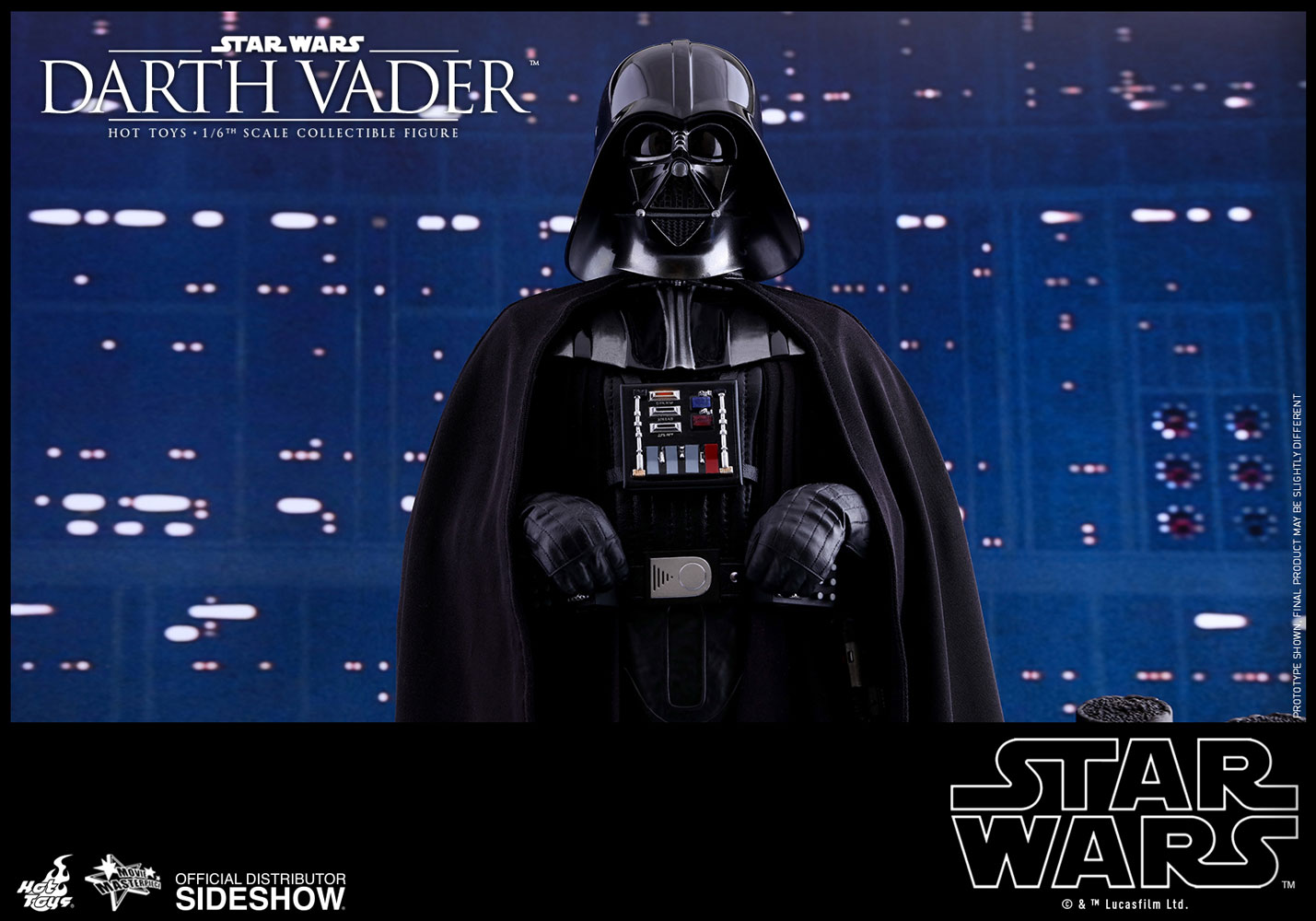 In Star Wars: Episode V The Empire Strikes Back, Darth Vader attempted to convert Luke Skywalker to the dark side by luring the young Skywalker into a trap in the Cloud City of Bespin. In the midst of a fierce lightsaber duel with the Sith Lord, Luke faces the startling revelation that the evil Vader is, in fact, his father, Anakin Skywalker…
Sideshow and Hot Toys are very excited to explore this iconic and memorable scene from the cinematic masterpiece and officially introduce the sixth scale Darth Vader collectible figure from Star Wars: Episode V The Empire Strikes Back!
The movie-accurate collectible figure features a newly crafted Darth Vader helmet with detachable outer helmet to reveal the back of Lord Vader's battle damaged head, all-new body armor and sophisticatedly tailored leather-like bodysuit, LED light-up chest panel and belt boxes, an LED light-up lightsaber, a variety of interchangeable hands of Darth Vader's iconic poses, and a Cloud City theme diorama figure base with light-up function!
Search your feelings… you know you want this for your Hot Toys Star Wars collection! The Star Wars: Episode V The Empire Strikes Back sixth scale Darth Vader collectible figure will be firstly available at the "Star Wars: The Last Jedi" Official Shop by Hot Toys in Japan for pre-order, it is also available in selected markets.
The Darth Vader Sixth Scale Collectible Figure specially features:
Authentic and detailed likeness of Darth Vader in Star Wars: Episode V The Empire Strikes Back

Newly crafted helmet with detachable outer helmet to reveal the back of Darth Vader's battle damaged head

Specialized body with over 30 points of articulations

Approximately 35 cm tall

Nine (9) pieces of newly redesigned interchangeable gloved hands including:
– One (1) pair of lightsaber holding hands
– One (1) pair of hands for holding belt boxes
– Four (4) pieces of gesturing hands
– One (1) piece of Force-using right hand
Costume:
One (1) newly crafted Darth Vader armor and suit

One (1) black cape

One (1) chest panel with LED light-up function (red light, battery operated)

One (1) system function belt with LED light-up function (white light, battery operated)

One (1) pair of black boots
Weapons:
One (1) LED-lighted red lightsaber (red light, battery operated)

One (1) lightsaber hilt

One (1) red-colored lightsaber blade in motion (attachable to the hilt)
Accessory:
A specially designed Cloud City theme LED-lighted diorama figure base (yellow light, battery operated) 
You can currently pre-order this Star Wars Darth Vader Star Wars Sixth Scale Figure from Sideshow Collectibles #ad.
New Micro Force Blind Bag Figure Line
Hasbro has just revealed a new line of Star Wars toys! Say hello to the Star Wars Micro Force figures! These figures will be in blind bags, so that you do not know which figure you will be getting (hey it's like Christmas every time you open a bag). This is a line of squishable and easily collectible micro figures. Fan-favorite characters include Rey, Finn, Darth Vader, Yoda, Princess Leia, Chewbacca and so many more.
STAR WARS MICRO FORCE Blind Bags Assortment
(Ages 4 years & up/Approx. Retail Price: $2.99/Available: December 2017)
Collect the Galaxy of fan-favorite characters with the STAR WARS MICRO FORCE Blind Bags Assortment. Each figure has a squishable feel and unique pose, creating an exciting new way to bring iconic STAR WARS scenes to life! These stylized and movie-inspired micro collectibles include iconic characters such as REY, FINN, DARTH VADER, LUKE SKYWALKER, PRINCESS LEIA ORGANA, HAN SOLO, CHEWBACCA, YODA, R2-D2, and more. Each blind bag includes two figures and a collector card. Each sold separately. Available at most major retailers and on HasbroToyShop.com.
About Hasbro:
Collectors and fans of every kind appreciate the eye for quality that can be found in Hasbro toys and collectibles. As one of the premier toy makers of all time, their toy lines have only gotten better over the years. This is one company that considers everyone their audience. From the greatest board games to some of the world's favorite Hasbro dolls, including the Baby Alive line, Hasbro has assembled a great selection of toys for you.