Kotobukiya Previews Upcoming Rogue One Death Trooper 2-pack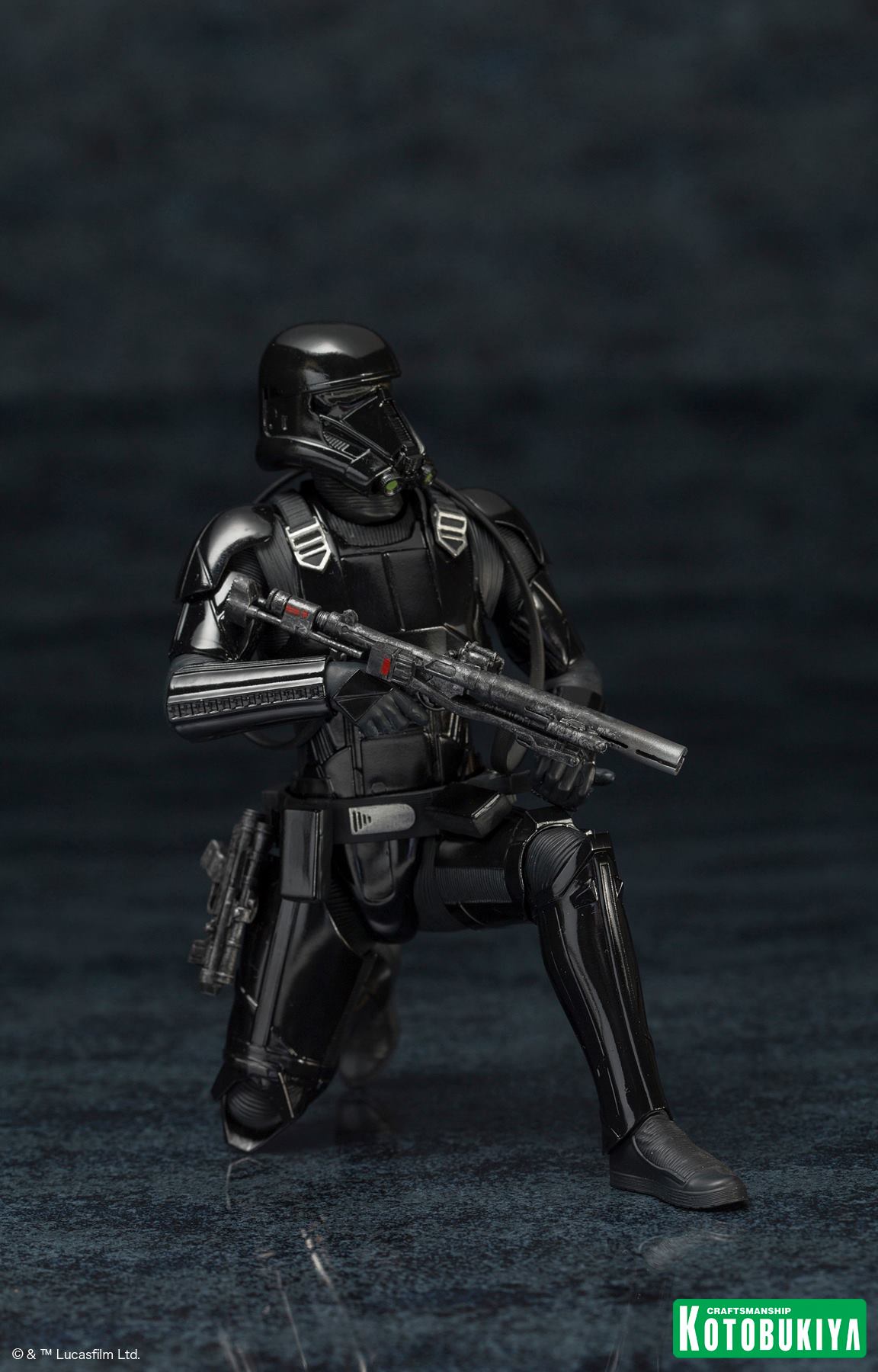 A Kotobukiya Japanese import! Star Wars ARTFX+ Statues bring you all of the quality and detailing that you expect from an ARTFX release in a great smaller scale perfect for collecting! The next fun army builder pack brings you characters from Rogue One, first of the new series of Star Wars standalone "story" films. While the movie introduced several new Imperial troop designs used before the events of A New Hope, the most sinister and distinctive comes to you now in a pair with the DEATH TROOPER TWO PACK! Elite soldiers in the Galactic Empire, the Death Troopers wear a unique and singularly menacing version of the classic Stormtrooper armor with several important differences. In addition to added equipment and ammo the helmet features an elongated faceplate, but of course the most obvious change is instead of the bright white of the standard armor it has a diabolical jet black finish! Serving the Emperor's Military Intelligence, Death Troopers were tasked with rooting out Rebels and a contingent answered to Director Orson Krennic around the time of the theft of the Death Star plans. The ARTFX+ Death Troopers are highly detailed both in sculpt and paint, with glossy black finishes on their intricate armor. They can even be displayed in different poses (standing, kneeling, aiming weapons, etc.) thanks to a plethora of included interchangeable parts!
ARTFX+ Statues are fun-to-assemble pre-painted snap-fit kits that can be put together easily in seconds without glue or modeling skill. The Death Troopers in this 2-pack stand just over 7 ½ inches tall (1/10th scale) when posed fully erect, and magnets in their feet provide perfect stability on the included metal display bases. Crush any Rebels that might be lurking in your home with this great Imperial army building set!
Available June 2017.
New Darth Vader TIE Advanced Star Wars Transformers Figure?
In news that seems to have come out of left field, Takara Tomy (the makers of the Transformers line in Japan), are going to release a new Darth Vader TIE Advanced Star Wars Transformers figure. We haven't seen Star Wars Transformers in quite some time, so it is rather puzzling why this is making a return.
The Darth Vader figure transforms into the TIE Advanced X1 Vehicle, complete with functioning cockpit and miniature Darth Vader Figure. Also included is Darth Vader's red lightsaber, which can be mounted to the vehicle. As part of an "initial release" campaign, there will be five mini Stormtrooper figures included.
You can expect to start seeing this one in March 2018, and you will most likely have to hit up a dealer that imports toys.
Check out the official photos below.
About Takara Tomy:
Tomy Company, Ltd. is a Japanese entertainment company that makes children's toys and merchandise. It was created from a merger on March 1, 2006 of two companies: Tomy and long-time rival Takara. The company has its headquarters in Katsushika, Tokyo.
Source :
NYCC 2017: Official Images of Upcoming Hasbro Star Wars Figures
The Hasbro marketing team has sent over new photos of some of the new Star Wars products on display at New York Comic-Con 2017. Fans of the original trilogy will be pleasantly surprised by the choices for the 6″ Black Series line.
Bounty hunters 4-LOM and Dengar are represented as well as Lando Calrissian in his Jabba Palace disguise. Check out the list of figures below, as well as a gallery of fantastic images!
Black Series 6 4-LOM
Black Series 6 Dengar
Black Series 6 DJ
Black Series 6 ROTJ Lando
Black Series 6 Rey w/ Cloak
3.75 C'Ai Thenalli
3.75 Maz Katana
3.75 2 Pack Capt. Phasma and Finn
NYCC 2017: Hot Toys at the Sideshow Booth
Sideshow Collectibles has a nice NYCC 2017 Hot Toys display setup at their booth. Thanks to ToyArk, we have a look at some of the new Hot Toys Star Wars items that are making their debut at the convention.
You can check out some of the photos below. If you want even more detailed images, check out the ToyArk link at the bottom of the article. You can currently pre-order the Star Wars Boba Fett Animation Version Star Wars Sixth Scale Figure from Sideshow Collectibles, now.
About Hot Toys:
Based in Hong Kong, Hot Toys Limited is a production company specializing in sixth scale collectible figures featuring actual likenesses of film based characters including Batman, Iron Man, Captain America, Thor, The Avengers, and more. Sideshow Collectibles is the official distributor of Hot Toys figures in the US, North and South America, Europe, Australia and select Asian countries.
Source :