Jakks Pacific Reveals SDCC Exclusive Hildebrandt Darth Vader Figure
For those loving the 40th Anniversary stuff, Jakks Pacific will have a unique exclusive Hildebrandt Darth Vader Figure at San Diego Comic-Con. Jakks redecoed their 20″ tall Darth Vader to look like Darth Vader from the iconic 1977 Star Wars poster by the Brothers Hildebrandt. This oversized figure has a vintage style play feature as well. If you squeeze the legs together, Darth Vader will swing his lightsaber and will activate lights and sounds. Along with the stylized paint scheme, the figure will come in vintage style packaging featuring artwork from the poster, and the 40th anniversary logo.
Check out a few of the images below.
About Jakks Pacific:
JAKKS Pacific, Inc. is a multi-brand company that has been designing, developing, producing, and marketing toys, leisure products, and writing instruments for children and adults around the world since 1995. Based in Malibu, California, the company markets its lines under various brand names, and in multiple product categories. It is a top-5 U.S. player in the toys and leisure products sector. JAKKS' huge selection gives both the casual toy buyer and serious collector plenty of options from which to choose!
Source :
New Jakks Pacific Rogue One Big-Fig Packs Coming!
If you are a fan of Jakks Pacific figures and can't wait to get more Star Wars-themed ones, then you are in for a treat. Thanks to Twitter user @Geektrooper, we images of two new Costco exclusive Rogue One Big-Fig Packs!
As you can tell from the image below, the first pack will be a repackaging of Star Wars: The Force Awakens Rey, Kylo Ren, and Finn, in all new Rogue One packaging. The second exclusive pack features K-2SO, a Stormtrooper, and a Death Trooper from Rogue One. These were apparently inadvertently put on the shelf early. None of the Rogue One merchandise is supposed to be for sale until September 30 (Force Friday).
Whoa. @Costco with the Rogue One toys! @CollectCantina @yak_face @_EricPfeifer pic.twitter.com/3esmrk2rRO

— Eric Kwun (@geektrooper) September 19, 2016
These Costco exclusive Rogue One Big-Fig Packs will cost you $39.99 each.  Head on out to your local Costco to see if they are on the shelves.  If so, let us know by commenting in the comment section below!
About Rogue One:
From Lucasfilm comes the first of the Star Wars standalone films, Rogue One: A Star Wars Story, an all-new epic adventure. In a time of conflict, a group of unlikely heroes band together on a mission to steal the plans to the Death Star, the Empire's ultimate weapon of destruction. This key event in the Star Wars timeline brings together ordinary people who choose to do extraordinary things, and in doing so, become part of something greater than themselves.
Rogue One: A Star Wars Story is directed by Gareth Edwards and stars Felicity Jones, Diego Luna, Ben Mendelsohn, Donnie Yen, Mads Mikkelsen, Alan Tudyk, Riz Ahmed, with Jiang Wen and Forest Whitaker. Kathleen Kennedy, Allison Shearmur and Simon Emanuel are producing, with John Knoll and Jason McGatlin serving as executive producers. Rogue One: A Star Wars Story opens in U.S. theaters on December 16, 2016.
Entertainment Earth's Darth Vader Holographic 20-Inch Action Figure Convention Exclusive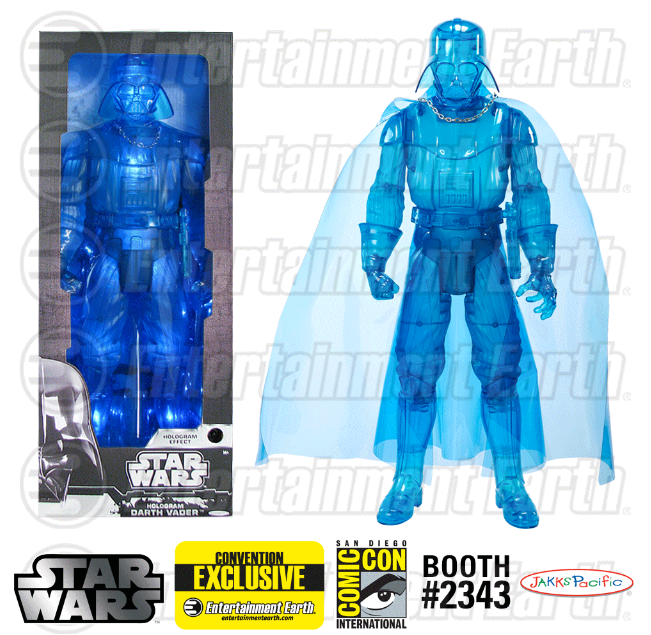 Fresh from the Battle of Hoth, Darth Vader is ready to dominate your collection. Available only at the Entertainment Earth Comic-Con booth #2343, this limited edition Star Wars Darth Vader Holographic 20-Inch Action Figure – Convention Exclusive is a must-have for any Star Wars fan! This clear blue Sith Lord boasts seven points of articulation and a lot of Force power, plus the holographic deco of the figure helps recreate the transmission effect from Star Wars: Episode V – The Empire Strikes Back.
Standing 20-inches tall, this is the first-ever holographic Darth Vader action figure in scale with the actual size of the holograph signal used to communicate with General Veers in the film. Just think – your very own life-size hologram figure!
As you might expect, the Dark Lord of the Sith comes with his classic costume, complete with a silver chain on the cape around his neck.
Darth Vader is packaged in an amazing light-up box featuring an exquisite Battle of Hoth backdrop and silver foil highlights. Push the button on the box and this holographic transmission action figure comes to life!
NOTE: This item will only be sold at San Diego Comic-Con 2015 at the Entertainment Earth booth #2343. It will not be for sale on our website at any time.
Stop by our booth to get this spectacular figure for yourself!