New PopMinded Video Features Star Wars Storytellers Ornaments
If you want to know the latest scoop on Hallmark's Star Wars Storytellers Ornaments, then look no further than the video below.  The fine folks at Hallmark give us a deep look at a few of the ornaments, and a sneak peek at one coming in 2018.
#ad If you are interested in purchasing these, you can find the Death Star, and Vader's TIE Fighter at Amazon.
Check out the video below!
It's been 40 years since we first were told the story from a long time ago in a galaxy far, far away. But we've never heard that story told quite like this. Christine and Kevin introduce you to Star Wars Storytellers—Hallmark Keepsake Ornaments' newest approach to putting memories on your Christmas tree with Hallmark Keepsake Ornaments. Plus, you'll meet Robert Hurlburt, the sculpting artist behind them!
About the PopMinded Show:
Popular culture surrounds us, and penetrates us, and binds the galaxy together. At Hallmark, Christine and Kevin work as they live: in an awesome world of superheroes, starships and the coolest stuff pop culture has to offer. Their Hallmark & Community channel series "PopMinded" brings you into that world.
Join in conversations about the TV shows, comics, movies and characters you love—and all the ways they connect you with your favorite people and make your life better.
About Hallmark Gold Crown Stores:
Hallmark Gold Crown Stores is your destination for ideas and inspiration to help you connect, create, celebrate and show just how much you care. With meaningful gifts and cards, they make it easy to celebrate everyday moments, special occasions and all your relationships in a way that's distinctly you.
Hallmark San Diego Comic-Con 2017 Exclusives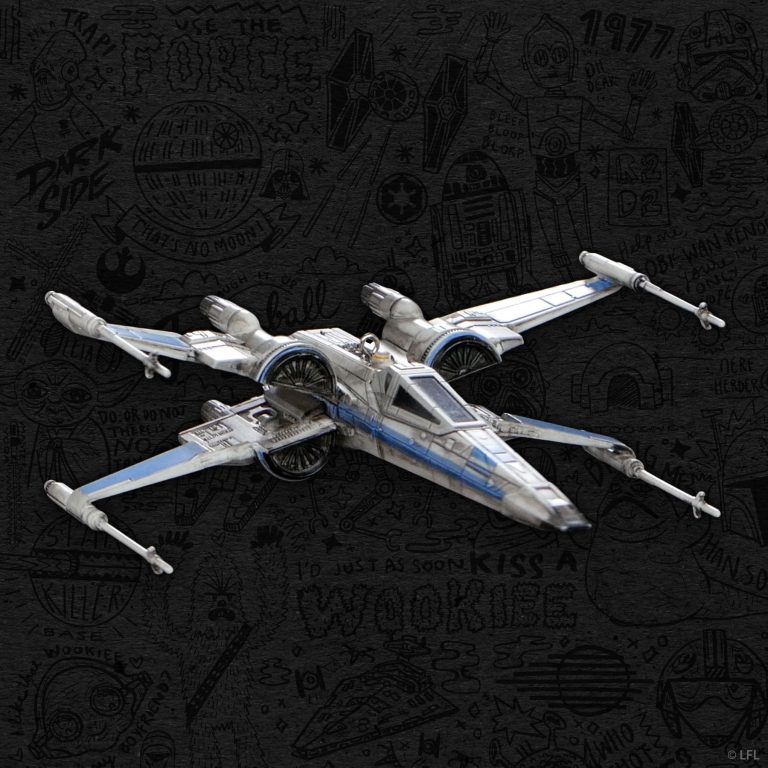 Hallmark has revealed their list of SDCC Exclusives for 2017.  While there are a few things on the list, we want to point out the Star Wars items (since this is a Star Wars fan site).  The Star Wars Hallmark San Diego-Comic-Con 2017 Exclusives include:
The Imperial R2-Q5 Droid becomes part of the astromech droid-themed perpetual calendar and features an additional set of date cubes in aurebesh, the famed language used throughout the Star Wars galaxy. The calendar has a total production run of 1,600, and 170 of them will be offered for sale each day.
T-70 X-Wing Fighter, a Keepsake Ornament of Poe Dameron's starfighter as depicted in the beginning of Star Wars Episode VII: The Force Awakens. This repaint of a 2016 Keepsake Ornament includes sound between Poe & BB-8 before the starfighter was destroyed on Jakku and has a total production run of 3,275 and sales will be limited to 275 per day.
A Walrus Man itty bittys plush adds to the Mos Eisley Cantina crowd with a the throw-back again to the original action figures and packaging. This has a total production run of 4,000 and sales will be limited to 300 per day.
About Hallmark:
Hallmark believes that when you care enough, you can change the world. That's why we are dedicated to creating a more emotionally connected world and making a difference in the lives of others.
Headquartered in Kansas City, Mo., Hallmark has a diverse portfolio of six businesses that offer a wide range of products distributed in more than 100 countries and 100,000 rooftops worldwide. These include top mass retailers and more than 2,000 company and independently owned Hallmark Gold Crown stores.
NYCC 2016 Hallmark Booth Photos
It is that time of year again.  Time for the biggest pop culture convention on the east coast.  That's right, its New York Comic-con time!  We have images coming from the show floor thanks to Omar Q!  First up is the NYCC 2016 Hallmark Booth.
The only Rogue One item on display was a Death Trooper Christmas Ornament.  There was a good bit of Star Wars: The Force Awakens merchandise on display.  The Itty Bittys on display include Admiral Ackbar, Luke Skywalker, Greedo, Ahsoka, Sabine, Captain Phasma, BB-8, Rey, Poe Dameron, Kylo Ren, and the exclusive slave Leia and Jabba.
Traditional Christmas ornaments included Han Solo, X-Wing Fighter, BB-8, the Death Trooper, and the exclusive concept Boba Fett.
Hallmark Joins in on the Force Friday Fun!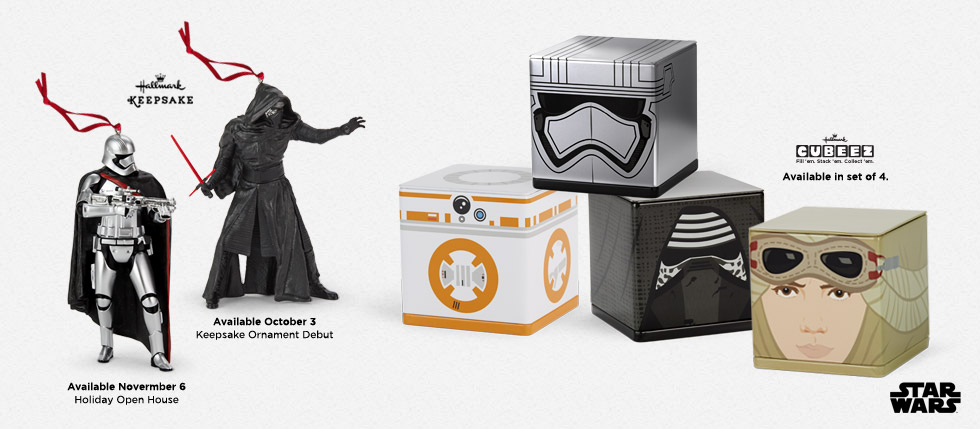 KANSAS CITY, Mo. (Sept. 4, 2015) — As excitement builds for the Dec. 18 release of Star Wars: The Force Awakens, Hallmark announces new products coming to Hallmark retailers and Hallmark.com featuring heroes and villains from the new film.
Hallmark Keepsake Ornaments, itty bittys® plush characters and Cubeez stacking boxes, as well as greeting cards, gift wrap and gifts inspired by the latest additions to the Star Wars saga will become available beginning next month, expanding Hallmark's lines of Star Wars products already popular with fans of all ages.
"It's an exciting time with Star Wars fans preparing to see their new and classic characters back on the big screen," says Christine Taylor of Hallmark Licensing. "We've created a great line-up of products to extend and complement the movie-going experience for longtime fans as well as new ones, and we can't wait to share them."
The Force Awakens slate from Hallmark kicks off Oct. 3 when the Kylo Ren branded ornament joins the ranks of other Star Wars Keepsake Ornaments on Keepsake Ornament Debut weekend. The chrome-armored Captain Phasma ornament will become available as a Keepsake Ornament in time for Hallmark's Holiday Open House event starting Nov. 6.
The Kylo Ren and Rey itty bittys plush characters will be available at the end of November. A special edition version of one of these characters will be available in December.
Cubeez, Hallmark's character-based metal boxes to fill, stack and collect, will appear in Hallmark Gold Crown® stores as a four-piece collector set bearing likenesses of round Droid BB-8, as well as the characters Rey, Kylo Ren and Captain Phasma. Other new gift items inspired by the movie include mugs and drink coasters.
Greeting cards for all occasions will feature characters and spacecraft from Star Wars: The Force Awakens, and will be available for sending this fall.
Additional Christmas ornaments, including decorative ball sets and sculpted figures of new Star Wars characters, will be available this fall at participating Hallmark retailers nationwide.
The largest selection of Hallmark Star Wars products will be found in Hallmark Gold Crown stores and online at Hallmark.com; use the store locator to find a nearby store.