New EB Games Exclusive Nien Nunb Funko POP!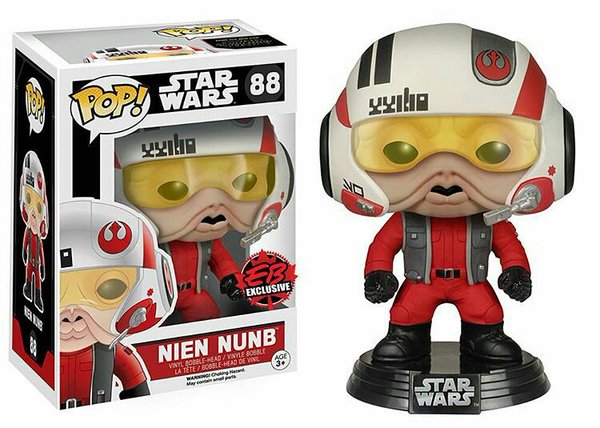 Whether you love Funko POP! figures or not, you are sure to like this figure.  The company along with EB Games has announced a new Nien Nunb Funko POP that will be exclusive to EB Games stores.  This exclusive figure features Nien Nunb with a flight helmet.  His regular version does not include the flight helmet.
Check out the tweet below that revealed the figure!
EB Games exclusive Nien Nunb (with helmet) from Star Wars is coming soon! #StarWars #funko #funkopop #popvinyl pic.twitter.com/BG2D9jouWz

— Funkopop.vinyl ? (@funkopop_vinyl) December 22, 2015
You can check out our list of all Star Wars Funko POP's released to date at our checklist page.
Photo Gallery – Smuggler's Bounty Mystery Minis Darth Maul
One of my favorite modern Star Wars collectibles has to be Mystery Minis from Funko. Mystery Minis are basically figures packaged in a small box that looks exactly like every other box in the case. The idea is that the identity of the figures are kept secret until you open the box. While Funko POP have taken a nice section of my display room, the Mystery Minis are quietly building their case as my favorite Star Wars Funko product.
#Note – Funko provided a sample Smuggler's Bounty box for the purpose of this review.
Upon opening the newest Smuggler's Bounty box from Funko, I was pleasantly surprised to find another Mystery Mini in this box. Last month's box contained a Star Wars: The Last Jedi Luke Skywalker Mystery Mini! Unlike last month's box, there is only one available figure (there were two different versions of Luke).
We will review the entire box during next week's podcast, but this piece was just too cool not to share. Darth Maul is one of fandom's top Star Wars villains, even though his theatrical appearance lasted all of about six minutes. The overall look of the character immediately made him one of interest to collectors and fans.
The overall sculpt of the piece fits right in line with the rest of Funko's Star Wars Mystery Minis. He comes with the same base that all of the figures come with, so he can interlock with the rest of your  figures. The paint application is also spot on. My only complaint is one that I have with this entire line. Figures with lightsabers always seem to have them bent, due to the packaging process. I doubt this is something that can truly be fixed, but a little hot water will probably allow you to bend it back in place.
Check out the photo gallery below!
This figure is well worth the price of the Smuggler's Bounty box!
The only problem I have now, is deciding where to put him. To this point, Funko has only released Star Wars Mystery Minis based on Star Wars: A New Hope, and Star Wars: The Last Jedi. I guess he will be the official start of my Star Wars: The Phantom Menace Mystery Minis collection.
About Smuggler's Bounty from Funko:
Each box costs just $25. With that $25, you get $50 in value of exclusive, high-quality collectible products including but not limited to apparel, accessories, toys and memorabilia. No fluff, no filler!  You can pre-order your box at smugglersbounty.com!
Endor is the Next Focus for Smuggler's Bounty
The Smuggler's Bounty Star Wars Sith box has officially closed, and you can expect them to start showing up on doorsteps soon.  Since that box has officially closed, it is time for Funko to announce their next box.  The new box is sure to be a favorite of fans of Return of the Jedi. Get ready to welcome the Smuggler's Bounty Endor box.
Since this is the initial advertisement for the box, not much is known about it. With the focus being Endor we can probably guess that we will get some Ewok merchandise, maybe some Endor Rebels merchandise, and more. With the addition of the Walmart Ewok 3-pack, Funko now has Wicket, Logray, Chief Chripa, and Teebo in POP form. What other Ewoks might we see?
Check out the first advert for the box today.
Each box costs just $25. With that $25, you get $50 in value of exclusive, high-quality collectible products including but not limited to apparel, accessories, toys and memorabilia. No fluff, no filler!  You can pre-order your box at smugglersbounty.com!
Funko Announces New Anakin Skywalker POP
If yesterday's Chewbacca on AT-ST announcement was enough Star Wars Funko excitement for you, then try this one on for size. Funko has just announced a Walgreens exclusive Anakin Skywalker Pop vinyl figure. This one is based on his look as he pilots his podracer to victory on Tatooine.
Look for this one exclusively at Walgreens later this month!
You can add to your Star Wars collection with these pieces from our site affiliate Entertainment Earth, most of which are on sale right now!
Note: If you purchase one of the awesome products featured above, we earn a small commission from the retailer. Thank you for your support.
About Funko:
Funko was originally conceived by Mike Becker and founded by Frank Malone as a bobbleheads company in 1998 and sold in 2005 to its CEO, Brian Mariotti, who significantly expanded the firm's licensed lines. In addition to selling millions of its Wacky Wobblers, Funko has delighted the world with a broad range of playable and collectible merchandise that includes such diverse items as plush, Pop! Vinyl figures, vehicles, mugs, water bottles, key chains, lanyards, USB drives, lamps, and headphones inspired by a vast number of films, TV shows, video games, and more.